Sophomore Saturday: Mili Youngman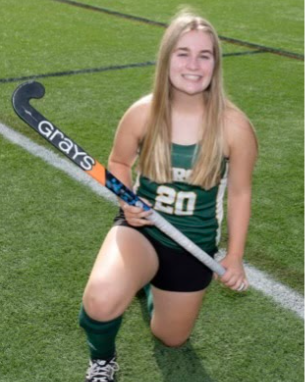 Q: Tell us a little bit about yourself and what hobbies/sports you do.
A: "I'm Mili Youngman. I play travel softball, and for school I play field hockey and softball. I like leading and sewing as well."
Q: After spending a year with classmates virtually, what's it been like to finally see people in person? Did anything surprise you about transition to in person classes? 
A:  "I didn't really know what to expect, the transition wasn't that bad. But I would say I never got lost in the Building. I think we're still getting used to it still because it is different. It seems like you have to kind of stay in a bubble like in the classroom. The teachers don't really let you sit where you want because of seating charts for COVID tracing. There's not the there's not as much freedom of moving around as there used to be." 
Q: Who helped you the most in getting through last year and why? 
A: "Probably friends and family because with online school and the lockdowns at the beginning, I have been stuck inside with my family. And then, Facetiming friends online and during school. 
Q: Which of your classes are you most excited for and why?
A: "I think the class I'm looking forward to is probably psychology. I'm taking it this semester. It's been interesting so far, and I'm looking forward to it."
Q: What are your thoughts about personal project? What were some challenges you faced? After the hard work, are you proud of your product? 
A: "I think I was proud of my project. I was able to complete my goal of teaching my dog a new trick. But I think throughout it wasn't my favorite class just because I thought it was a lot of work and lots of writing, editing. 
Q: If you could change one thing from your freshman self, what would it be? 
A: " Currently from eighth grade and freshman year there wasn't a lot of character development, because I was stuck inside my room.I don't really think there's anything that changed because I was unable to  go out and do anything so I didn't really have a chance to develop."