Sophomore Saturday: Caroline Hemmila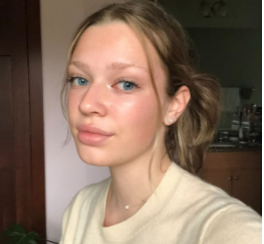 Q: Tell us a little bit about yourself and what hobbies/sports you do.
A: "I play tennis, piano, and flute. My favorite hobbies are baking and watching college football."
Q: After spending a year with classmates virtually, what's it been like to finally see people in person? 
A:  "It has been awesome to see all of my old friends in person, make new friendships, and finally figure out the faces of people from my classes from last year."
Q: Who helped you the most in getting through last year and why? 
A: "Not a who but probably a what. I couldn't have done it without Gmail. The amount of elegantly crafted excuses, or emails, that I wrote to teachers about my tech issues was enough to make an IT worker faint."
Q: Describe something about coming back to school in person that has surprised you?
A:  "It has surprised me how aware I am of when someone isn't wearing a mask correctly, it's practically the first thing I notice about people at this point. I was also surprised how high school students are no more mature than middle school students."
Q: Which of your classes are you most excited for and why?
A:  "I am most excited for English because if I'm being honest, English is the easiest."
Q: What are your thoughts about personal project? When do you think you'll get started on your work?
A: "If I'm just getting started now then I have no idea what my grade is going to be like for the presentation I did on my finished project last Thursday."
Q: If you could change one thing from your freshman self, what would it be? 
A:  "I would tell myself to please not choose purple braces; they don't go with anything."