Teacher Tuesday: Kristin Kubacki
Q: How are you feeling? Do you feel stressed or anxious about what is happening right now?
A: "I'm feeling surprisingly calm, for the most part. Of course, I have moments of anxiety, especially when I think about people I care about who are particularly vulnerable right now. Generally, though, I'm appreciating the slower pace of life with more time with my family."
Q: Have you developed any new hobbies since we are home all day? What do you do in your free time?
A: "I'm spending a LOT more time making art, which is so gratifying. I'm also reading more. I haven't really developed new hobbies, although my family recently participated in a virtual dance challenge with some of our friends, which was hilarious."
Q: How has teaching been without technology that is usually in your classroom?
A: "The main challenge for me is teaching without access to art supplies and equipment. This is especially problematic for my Darkroom Photography classes, since obviously, none of the students have access to a darkroom at home. We have had to transition over to a Digital Photography curriculum. My DP Visual Arts classes were supposed to be starting a ceramics project, so we are also having to improvise and change plans for them."
Q: How have you adjusted your teaching style?
A: "Everything is different in terms of the delivery of the lessons. I'm learning a bunch of new technology tricks to help me share information with my students. But what hasn't changed is that one-on-one interaction remains my most effective and important method of teaching. I've been doing lots of video chats with students, and it's the best part of my teaching day now. I love being able to see their faces and have natural conversations, rather than one-sided emails or messages."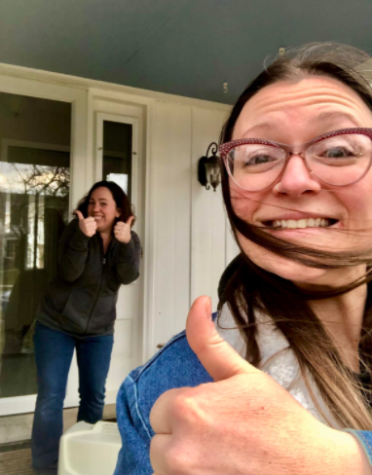 Q: What do you miss about Huron?
A: "That's easy – the people! I love teaching because I love the personal relationships I have with the students, so it's hard to be away from them. My students make me laugh every day, and I miss that too. I also really miss my art-teaching colleagues. We're such close friends, and although we all text every day, it's not the same as being together in person."
Q: What would you tell students that are feeling stressed about their workload?
A: "To combat stress, I'd advise that students stick to a schedule, with a set wake-up time and established times for school work, exercise, creativity, and relaxing.  I have two kids in high school, and I can see that having structure and balance is essential for their stress-levels and mental health."
Q: Have you been giving out less or more work since we have been in quarantine?
A: "Generally less, especially for my photography classes. The challenge with my DP Visual Arts classes is that we still have IB requirements that we need to fulfill, so we need to do our best to stay on track with our work."
Q: How do you think the school district can improve distance learning?
A: "My hope is that the district will continue to listen to the voices of the students, families, and teachers, and respond to what is working well and what needs to change. We need to be flexible and adapt when necessary."
Q: Do you think the school district has handled this situation well?
A: "Yes, I do. It's so difficult to come up with a plan that meets everyone's needs, especially when things in the outside world keep changing. I appreciate that the district did not rush into a plan, and that they've prioritized the physical and emotional needs of students and staff. There's no way that this could unfold perfectly, but so far, I think things have gone as smoothly as anyone could expect."
Q: Do you think students are going to be prepared for classes next year?
A: "If students do their parts to participate in the learning opportunities that teachers are providing, I think they'll be alright. Teachers will have to be responsive to students' needs in the fall to determine if more review is necessary, but we're typically pretty good at that!"
Q: What has specifically changed for the Art department that most?
A: "We are hands-on teachers, and our students are hands-on learners. The biggest adjustment has been that we can't sit with students and demonstrate how to use materials or execute techniques, and then give students direct feedback while they work. We really miss that one-on-one in-person contact."