Senior sunday: Sami Ruud
Q: What was your reaction when you first heard about school closing?
A: "I had already expected school to be closed for the rest of the year before they officially announced it, but I was kind of in shock because the decision was so final."
Q: What are your worries about not having the second semester of your senior year?
A: "I'm sad that I won't get the most fun times of my school life, like prom, graduation, and memories with my friends. I also won't get a chance to play softball again, which is really sad since I've been playing my whole life."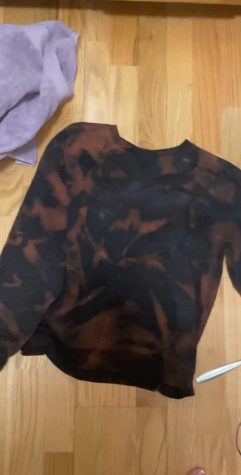 Q: What activities have you done during this break?
A: "I've done some art projects and baking. I painted my Air Force 1's, I've made college collages for my friends for their desktop backgrounds, I've been learning how to make cool edits on my photos. I've also had a few photoshoots and have been tanning whenever it's warm. I baked brownies and chocolate chip cookies. My most recent projects have been painting a cool art piece for my dorm room next year, and bleach tie dying some of my clothes!"
Q: What is your daily routine during this break?
A: "I wake up at 11 every day and work out from 11:30-12:30, then I do the homework my teachers assigned for that day. If it's warm, I spend the whole day outside tanning while I do my work, then I listen to music, watch Netflix, make TikToks, or do a project until dinner time. After dinner I usually relax, and then FaceTime my friends for the rest of the night until I go to bed."
Q: Do you like the way teachers are assigning work?
A: "I haven't had a problem with the work assigned so far! I definitely have been doing more work than I did when I was actually in school, but not an unbearable amount."
Q: How could your teachers help make this break easier?
A: "Honestly, my teachers have been really supportive and understanding so far."
Q: What good tv shows have you watched during this break that you would recommend for others?
A: "I watched All American, Ozark, and Money Heist which were all super good and I would recommend all of them. I also just started Outer Banks and I love it so far."
Q: What is the saddest part about not being able to go back to school?
A: "The memories of the end of high school that I'm missing, and the people I won't see again."
Q: Are you missing one of your sports because of this? 
A: Yes, this was supposed to be my senior softball season.
Q: If so how does that make you feel?
A: "I'm sad I'm missing the last softball season of my life because I have been playing since before I can remember and it's just over so abruptly. I'm sad I won't have a senior night or have the chance to be captain again this year, and that I'm missing all the fun that we were going to have."