Teacher Tuesday: Subhashree Ramadoss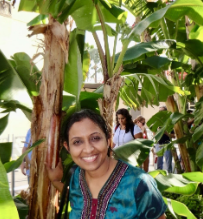 Q: Tell us a little bit about yourself and what hobbies/sports you do.
A: "I love to watch Cricket and Tennis. I wish I could play, but I can play the violin and enjoy playing when I have time."
Q: What do you teach and why?
A: "Physics. I teach Physics because it is one of the 2 things I know and love to teach in high school. The other is Math."
Q: Have you always been interested in teaching?
A: "I have always taught even before I became a teacher.  When I was in college I used to tutor high schoolers. I  have coached  Science Olympiad in Elementary and Middle Schools. I also teach violin to whoever wants to learn. I always enjoyed teaching."
Q: What/who inspired you to become a teacher?
A: "My mother was my biggest inspiration. She was a Physics teacher herself.  But it was one of my professors, Prof. S.K.Muthu during my MS in Physics who actually modeled how theoretical Physics should be taught. He made most complex problems seem so easy to understand. It is hard to be like him, but I try."
Q: What do you do in your free time?
A: "I love to cook for my family. I watch all kinds of cooking shows whether I can replicate them or not." 
Q: What is one motto you will always live by?
A: "Just keep doing what needs to be done every moment, every day. Don't worry too much as things do fall in place when you have good intentions."
Q: What is your favorite teaching moment?
A: "These are 2 of my many favorite teaching moments (1) I had a student in AP Physics who was also concurrently doing Calculus 3 at WCC. When we were discussing certain equations in class, he understood something he was struggling with in Calc 3. He jumped with joy at that very moment and he froze in time for me.  We want all students to not only enjoy learning but also enjoy connecting the dots.  (2) In 10th-grade Physics (pre-pandemic), a few of my students took to Tik-Tok and uploaded a video of them singing Physics terms while explaining them. They shared it with the class and it was a joy to watch the class giggling while learning."
Q: What were some challenges you faced transitioning back to in person learning? 
A: "Challenges that I am facing are not uncommon to other teachers. Students this year came back to school after many months of online instructions. Getting them to pay attention to details of in-person instructions is harder this year. I am not only teaching the content but also helping them improve their learning behaviors."
Q: What surprised you about this year? How did it feel to be back in-person?
A: "What surprised me about this year was the resilience that our school exhibited. Students and staff quickly came back to routine and continued with sports, clubs, and performances in full swing while heeding pandemic protocols. I love to be back in person. There is so much liveliness in school, so much joy in seeing the faces (although half covered) which I missed during the online teaching."