Junior Jumpstart Monday: Geraldine Arias-Salazar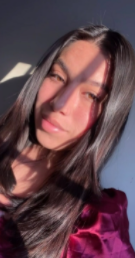 Gina Ko, Staff Writer
February 14, 2022
Q: Tell us a little bit about yourself and what hobbies/sports you do.
A: "One sport I do is soccer. I like playing soccer because I like moving and staying active. This is also something my family does."
Q: What is one class/club you would recommend to underclassmen? Why?
A: "I've been in one club, which is called HAT (human against trafficking). It covers a very interesting topic and something that people should be aware of."
Q: What's an interesting/unique fact about yourself?
A: "The unique fact about me is that I am available to manage emotion and stay positive even though something wrong is going on."
Q: Where do you see yourself in ten years?
A: "I see myself working in hospital in ten years."
Q: Describe your high school experience in three words.
A: "Challenging, wise, and emotional."
Q: Who is your idol and why?
A: "My idol is Frida Kahlo because she is a tough woman. She is really brave and overcame a lot of things. She's also very talented and pretty."
Q: What is one lesson high school has taught you?
A: "The harder you work, the more you accomplish."