Senior Sunday: Brayden MacBridge
Q: Tell us a little bit about yourself.
A: "I'm a senior on the crew team and I spend a lot of time watching Netflix. I like playing video games and playing outside and I eat a lot of food. Generally, when I'm not in class, I'm either working out or online with my friends." 
Q: What has been your favorite part about this school year?
A: "My favorite part about this school year so far is not having class on Wednesdays and the block schedule. Not having class on Wednesdays gives me more free time and allows me to do the stuff I love. The block schedule is nice because, with more time in the class, you can have the lesson and then do your homework with the teacher present if you need them."
Q: What do you miss about Huron?
A: "I miss seeing my friends in person every day and also have actual interactions with teachers and other people. It's something that I really took for granted and when we first had to quarantine, I realized how much I talked to my friends and teachers." 
Q: What is one goal you have for this year?
A: "My main goal for this year is to graduate. It's hard to believe that it's already my senior year and all of the work I've done for the past three years has been working towards this one goal."
Q: What is your favorite class and why?
A: "My favorite is probably Math because Mr. Schuitman is the best teacher and he teaches well. This is my second year with him and his teaching style works well with me."
Q: What hobbies/sports do you do?
A: "This is my fourth year on the Huron rowing team, I started freshman year and fell in love with the sport and would like to continue in college. I love to be outside and hang out with my friends. Over quarantine, I started to read more. I never really was into reading, but recently I have enjoyed sitting down and reading a good book."
About the Writer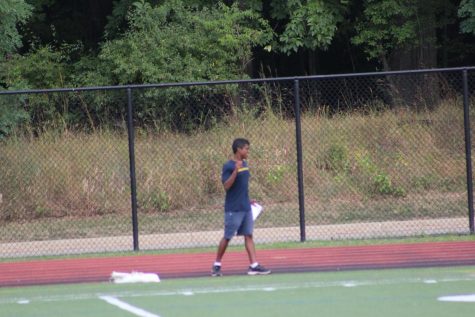 Visruth Rajendiran, Staff Writer
Visruth is a junior at Huron High. This is his first year on the Huron Emery. He was the team manager for the Huron Boys soccer team last year, and now...