Former Huron Student Manuel Lagunes-Hernández subject to deportation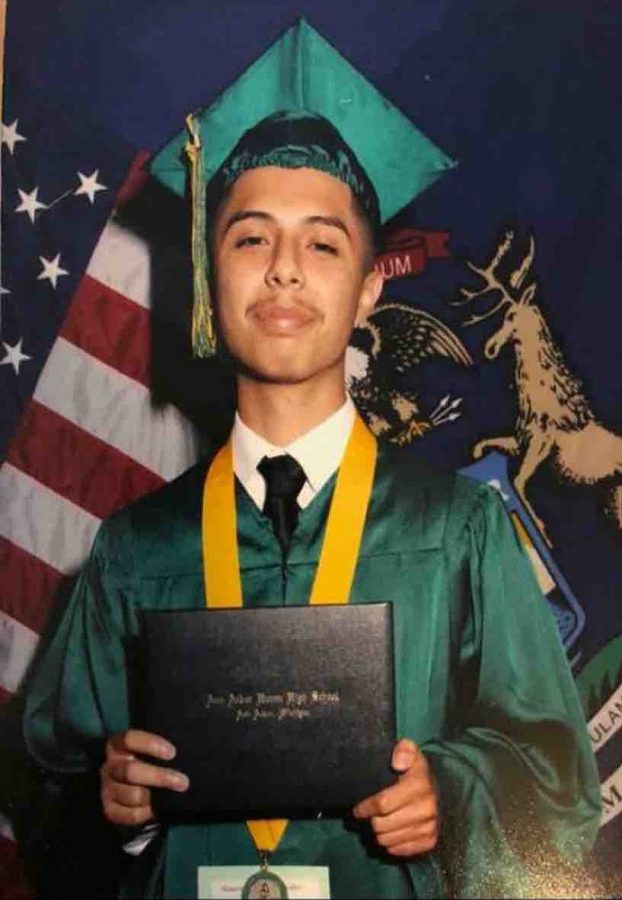 Huron alumnus Manuel Lagunes-Hernandez has a court date scheduled for next Wednesday (Dec. 12), where his entire future will be determined. The judge will decide whether Lagunes-Hernández will remain in the United States or be deported back to Mexico.
Lagunes came to the United States when he was nine years old with his mother and brother, and he has been an undocumented citizen since arrival. However, he was protected under DACA and was therefore able to attend Huron and also have a job. He graduated from Huron in 2014, and he co-hosted WICKidz radio as a part of WICIR (Washtenaw Interfaith Coalition for Immigration Rights).
Lagunes was picked up by I.C.E. (Immigration and Customs Enforcement) about one month ago while he was on his way to a court hearing with his public defendant, says Sunanna Grewal, a 2016 Huron alumni and a close friend of Manuel. When he was detained, he was one block away from his house, and it is known that he was reported to the immigration police. He is currently being held at the Calhoun County Correctional in Battle Creek, MI.
Lagunes' DACA status expired on Nov. 13, and because of previous charges he is 'ineligible to renew any form of legal status,' according to a facebook page dedicated to the issue.
On Nov. 27, there was a hearing in the immigration court in the Patrick V. McNamara Federal Building in downtown Detroit to determine if a bond could be paid to release Lagunes. He was denied the bond and will remain at Calhoun until the next court date on Dec. 12.
Lagunes' brother was deported last year after getting into trouble with the police and going to Washtenaw County jail. Lagunes also has two young sisters, one in kindergarten and one in fourth grade, who he helped take care of growing up and who are very affected by this, says Grewal.
"It hurts to see somebody who is so close to you go through this, and someone who doesn't deserve it," Grewal said. "To see someone who cares so much about others to be treated this way, it's heartbreaking."
According to Lagunes' cousin Carmen Hernandez, Manny is being treated very poorly at the Calhoun County Correctional.
"On Thanksgiving, he called his mom around 6 p.m. to say happy Thanksgiving, and then he called back later to tell her what was on the menu for thanksgiving dinner, which was a piece of bread and water," Carmen said. "He's a skinny guy, he needs more than that. Everybody in there needs more than that."
When Lagunes talks to Carmen over the phone, he always wants to make sure everyone else in their family is doing ok.
"He doesn't call to say 'save me' or to help him do this or that," Carmen said. "He says 'how are you guys?' 'are you guys ok?' And that's crazy to me because he's more worried about us than himself. He's more worried about how we're going to be when he's not there than himself."
Huron assistant principal Michael Sumerton had Manny in his Algebra 2 class seven years ago. They had a very close relationship.
"He was a really good kid," Sumerton said.
Lagunes's family and friends started a GoFundMe page at the beginning of the month to raise money to help pay for legal fees. It has raised over $3,800 so far out of a total goal of $6,000.
"Anyone who knows Manny the slightest bit would know that he couldn't even hurt a fly, he's just that kind of person" Grewal said. "Everyone makes mistakes, and it's not fair that just because he doesn't have his papers here, he has to be a perfect human being, otherwise he's kicked out of his home."
For more information about Manny Lagunes, visit https://bit.ly/2zHLt4F