Freshman Friday: Katherine Ma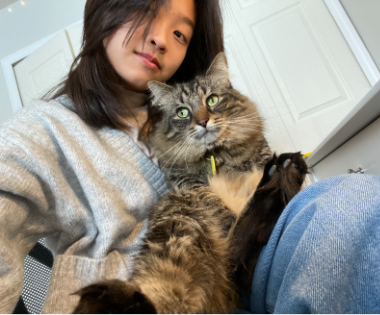 Q: Tell us a little bit about yourself and what hobbies/sports you do.
A: "Hi, I'm Katherine and I'm a freshman at Huron this year. In my free time, I really enjoy reading, photography, or playing tennis. "
Q: How would you describe your transition from middle to high school?
A: "My transition from middle to high school went pretty well. The first day of high school was weird because I wasn't used to so many people at once, but after the first week, it got better."
Q: What classes are you most looking forward to taking either now or in the future?
A: "I'm looking forward to my junior and senior year when I can work at medical research labs as one of my classes. "
Q: What are 3 words to describe your first year of high school so far and why did you choose them?
A: "Exciting – High school and middle school are really different, and I can take a lot more of the classes I want, so it's a fun challenge for me. 
Different – There's a lot of new people in high school, and I've had to go out of my comfort zone to make new friends and to get to know my classmates better. 
Unique – Starting high school during the middle of the pandemic is probably different from what you would describe from being "normal," so I think it's a pretty unique experience."
Q: How has high school surprised you so far? Were there any skills you had to learn to get work done or fit school into your schedule?
A: "Compared to middle school, high school is a lot more academically competitive and busy in terms of homework. Some skills I had to learn better were time management and balancing my personal life with school work without feeling overwhelmed." 
Q: Who has left an impression on you in the first semester — whether it be a classmate, staff member, or teacher? Describe the impression. 
A: "From the first semester, Mr. Krohn, my orchestra director, has left an impression on me – in terms of his passion for teaching and connecting everyone together through music."
Q: How do you want to remember your high school experience four years later? What are you doing now or how do you plan to make that happen? 
A: "I want to remember my high school experience as successful and fulfilling. I think high school is a time to grow and discover your interests – so I'm currently participating in clubs I find interesting."