Freshman Friday: Wilmer Lazo Garcia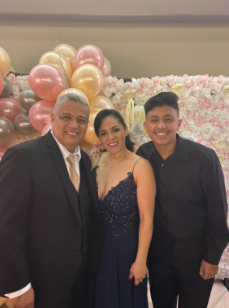 Q: Tell us a little bit about yourself and what hobbies/sports you do.
A: "I love to be involved in soccer, I usually play it or be an assistant coach for my uncle. I also love playing video games and playing guitar." 
Q: How would you describe your transition from middle to high school?
A: "I thought my transition from Middle to high school was going to be tough but I was wrong. I've made a lot of new friends, most of my soccer teammates, I've been enjoying my classes, it's just been very fun and enjoyable." 
Q: What classes are you most looking forward to taking either now or in the future?
A: "I'm really looking forward to taking my engineering classes, sadly I couldn't take them this year, but I'm also taking yearbook or newspaper and I'm enjoying my marketing class with Mr. Hunter." 
Q: What are 3 words to describe your first day of high school and why did you choose them?
A: "Confused, shy, and enjoyable. I felt very confused trying to find my classes, I was confused about how the school worked, and I was confused about how the classes. I was very shy trying to make new friends and talked with the teacher. But I enjoyed my first day and knew that I was going to love high school." 
Q: How difficult was it to navigate around the school in the first few weeks? When do you think you'll have a good grasp of the entire building structure?
A: "I really didn't struggle with navigating the school the first two days where the only days I had struggled but that's usually. I feel that I have a good grasp of the school. I know that most hallways have sections, I know where the gym, basement, cafeteria, etc are." 
Q: Who has left an impression on you in the first couple of weeks— whether it be a classmate, staff member, or teacher? Describe the impression. 
A: "Coach Sarah and my teammates. They made me feel welcome and I love the practice and games we have." 
Q: How do you want to remember your high school experience four years later? What are you doing now or how do you plan to make that happen? 
A: "I want to remember my high school experience as one of the best experiences, one of the most memorable, and one of the most stressful experiences I have had. I'm right now just focusing on school trying to get them A+, and I'm planning to get my scholarship to U of M and become a millionaire."