Zavier Simpson shines but Michigan falls short to Wisconsin 81-74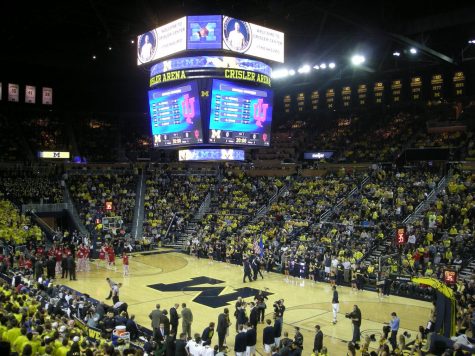 Under the Crisler Center lights, in the highly anticipated Big 10 men's basketball matchup against Wisconsin, Michigan was unable to please the home crowd. Despite a career night from Zavier Simpson, who posted a stat line of 32 points, 6 assists, and five rebounds, Michigan lost 81-74. 
It dropped the Wolverines to a record of 18-10, and also abruptly ended their five game winning streak. Even after the reigition of hope during this run, the loss to Wisconsin is a glaring reminder of the Wolverines flaws and tendency to turn into a let down when it matters most.
Isiah Livers, the coveted forward, wasn't making a definite impact which he has done all season. It seemed to be his worst game of the year, and along with him John Teske struggled to control the paint. He only pulled down two boards, and it all played into Michigan's lackluster performance of the defensive end.
Another reason for that was the absence of Eli Brooks. The guard has established himself as Michigan's best overall and perimeter defender and his calming presence was sorely missed tonight. It left Simpson and David Dejulius as the main ball handlers, and they didn't start with each other to avoid foul trouble.
Nonetheless the bright spots on the team weren't dimmed. Key players like Franz Wagner and Simpson carried the load. Unfortunately the 8-0 run in the start of the third quarter didn't translate to a win.
Their recent games have proved they are a quality team, it's just that these type of games can't carry on into March.
Nevertheless they also failed to beat Ohio state 77-63 in another intense conference game. The shortcoming was very similar to this one, as defense and offensive inefficiency turned into a defeat.
At this point the team is scrambling to make a statement to slightly change their tournament seeding. Michigan will look to shift the tide against the worst team in the conference, a 2-16 Nebraska squad. However after that they face a number nine nationally ranked Maryland team, which also is the best team in the conference. This competition gap will challenge their consistency as a group.
In the end these drastically different games will show if the past few were an anomaly or a disappointing truth.