Junior Jumpstart Monday: Ahmed Hejazi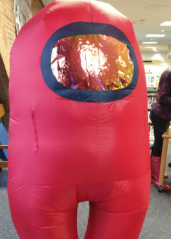 Q: Tell us a little bit about yourself and what hobbies/sports you do.
A: "I'm a middle child of 4 (infamous) brothers. I enjoy playing tennis for Huron and practicing the violin for the orchestra."
Q: What is one class/club you would recommend to underclassmen? Why?
A: "HOSA, a medical-profession-based club, is an awesome community to be a part of. Not only do you get to learn new things about the field of medicine, but the experiences at competitions are super fun. "
Q: What's an interesting/unique fact about yourself?
A: "I have perfect pitch! Basically, I can recognize notes that are played by instruments without having any reference. It's a pretty rare thing to have, so I'm happy that I have it."
Q: Where do you see yourself in ten years?
A: "Hopefully I'll be working a job at NASA or another tech company. I'm just praying I get to college in one piece first."
Q: How do you feel about almost being a senior? Are you excited about almost being through junior year? 
A: "It's relieving, but at the same time pretty stressful. Ending high school next year gives me something to look forward to, but applying to college seems like such a daunting task."
Q: Who is your idol and why?
A: "I'd say probably Keanu Reeves. He's a very successful guy, and he's also really wise and down to earth."
Q: What is one lesson high school has taught you?
A: "Definitely stay organized. It'll make everything less stressful and easier in the long run."