Junior Jumpstart Monday: Rachel Henderson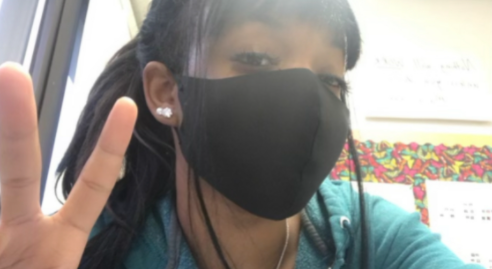 Q: Tell us a little bit about yourself and what hobbies/sports you do.
A: "My name is Rachel and I'm a Junior at Huron. I like listening to R&B and hip-hop music, doing my nails and hair, and dancing to some random music. I like to create outfits, watch court case documentaries and hang out with three sisters. I'm also on the track team."
Q: What is one class/club you would recommend to underclassmen? Why?
A: "I would strongly recommend chemistry AC; I actually liked that class a lot. I also enjoyed law and philosophy. One club I would recommend is actually something my friend Samara Jihad and I are planning to start next year. It's called "Unapologetically black". The club will focus on promoting black culture and providing a safe space for black students at school. Any student at our school is welcome to join though."
Q: What's an interesting/unique fact about yourself?
A: "I live in Detroit. I spend an hour in my car driving to school and driving back home. It's great."
Q: Where do you see yourself in ten years?
A: "I hope to graduate from Georgetown Law School by then. I want to work for Darden & Associates, LLC or The Cochran Firm Detroit."
Q: How do you feel about almost being a senior? Are you excited about almost being through junior year?
A: "These three years have passed so fast. I am excited to be a senior but scared at the same time because it's when we apply to colleges."
Q: Who is your idol and why?
A:  "God. They have a lot for me; they have a lot through me."
Q: What's your plan for the spring break?
A:  "I would probably spend the whole spring break studying for the SAT and finishing up my projects for school."
Q: What is one lesson high school has taught you?
A: "Huron is like a true definition of a pre-college. A lot is expected for students, mostly academically. Being a student at Huron taught me to have a strong foundation of time management and self-discipline."