Freshman Friday: Emmi Conrad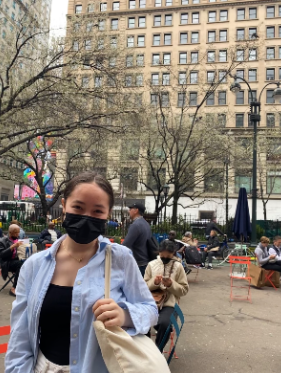 Gina Ko, Feature Editor
May 20, 2022
Q: Tell us a little bit about yourself and what hobbies/sports you do.
A: "I'm a freshman and I enjoy playing golf."
Q: How would you describe your transition from middle to high school?
A: "In 8th grade, it was all COVID and I did online the whole year, so it was good to come back in-person."
Q: What class was the most interesting this year and why?
A: "Engineering design.  I got to create solutions and create my things from scratch."
Q: What are 3 words to describe your first year of high school?
A: "New, exciting, and overwhelming."
Q: How has high school surprised you so far? Were there any skills you had to learn to get work done or fit school into your schedule?
A: "I think I had to learn how to manage my time better because there was more homework and I had to get done in time."
Q: How are you feeling about the end of the school year? 
A: "I'm excited to be done and for the summer break." 
Q: How do you want to remember your high school experience four years later? What are you doing now or how do you plan to make that happen? 
A: "I want to remember the people I met this year because I met more people this year."