Senior Sunday: Lydia Miteza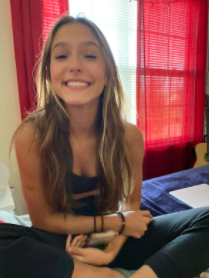 Q: Tell us a little bit about yourself and what hobbies/sports you do.
A:  "I play golf and I do some clubs at Huron. I was in BPA, ethics bowl, the student equity group and I also did crew."
Q: What is one class/club you would recommend to underclassmen? Why?
A:  "I would definitely recommend taking meaningful classes rather than electives that don't add to your graduation so when you're an upperclassman you have a lot more flexibility in your schedule and won't be as stressed when taking AP and IB classes as well as studying for standardized tests junior year."
Q: What is the biggest difference between freshman-year you and you today?
A: "I've grown and matured a lot emotionally. I also think I've developed a lot of meaningful skills like leadership, social skills, time management, etc,"
Q: Ten years from now, what is one high school memory you will still remember?
A: "Definitely my favorite classes and the school events"
Q: What is one piece of advice you would give to your freshman self?
A: "Freshman year is the easiest year of high school. Get a 4.0 or as best grades are you can or you'll spend the rest of high school trying to bring your GPA up."
Q: What will you miss most about high school?
A: "Definitely my friends because I am most likely going out of state for college."
Q: What are your plans for next year?
A: "I was accepted into a few California universities so I may end up there."