Senior Sunday: Callie Gray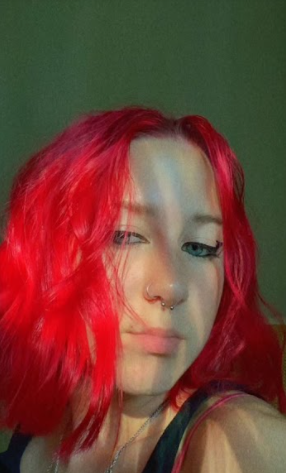 Q: Tell us a little bit about yourself and what hobbies/sports you do.
A: "One of my favorite hobbies is crew, I have been doing it since freshman year. I also enjoys plays the bass guitar in my free time, along with drawing and painting."
Q: What is one class/club you would recommend to underclassmen? Why?
A:  " I recommend ceramics with Mr.Smigele,  that he is very nice and the class fun along with the assignments that they do."
Q: What is the biggest difference between freshman-year you and you today?
A: "I have come out as gay and by doing so I mental health has improved greatly."
Q: Ten years from now, what is one high school memory you will still remember?
A: " My favorite memory from high school is eating lunch with my friends during sophomore year. It's something that I will always remember."
Q: What is one piece of advice you would give to your freshman self?
A: "You meet more people than your freshman year and find better friends than you previously had or grow relationships."
Q: What will you miss most about high school?
A: I'll miss being on the crew team and seeing my friends everyday."
Q: What are your plans for next year?
A: "I am planning on going to college next year, I haven't chosen one just yet but I is still searching."