Senior Sunday: Mari Park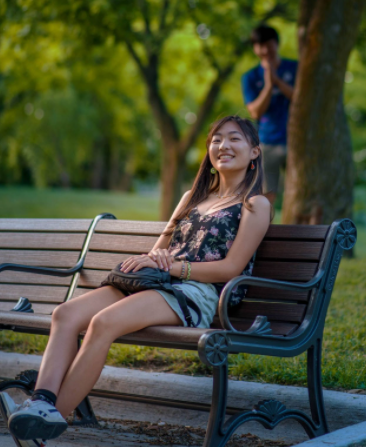 Q: Tell us a little bit about yourself and what hobbies/sports you do.
A: "Hello! I'm Mari Park, a senior at Huron High school. I have two cats, a dog, and two older sisters. Some of my hobbies are playing piano, sewing, and playing video games."
Q: What is one class/club you would recommend to underclassmen? Why?
A: "I really recommend taking IB Applications and Interpretations Math because it is a class that has made math fun for me. I previously had never thought about entering the field of mathematics in my future, but this class fascinated me by making real world connections to the material we learn in class. Also since it is an IB class you usually get really close to your classmates and teacher like Ms. Taube."
Q: What is the biggest difference between freshman-year you and you today?
A: "A big difference is my ability to manage academics. I am so much better at getting good test scores without studying and writing proficient essays in one day. My overall analysis and general knowledge allow me to get through school work more easily."
Q: Ten years from now, what is one high school memory you will still remember?
A: "I will remember singing at the Senior Talent Show in Band Camp. I wore a children's Elsa dress and sang "Love is an Open Door" and "Into the Unknown" with my close friend Natalie Muenz."
Q: What is one piece of advice you would give to your freshman self?
A: "Explore more clubs and interests. I was very reserved and resistant to join clubs but discovered clubs like Ethics Bowl and Green Team which made my school life much more fulfilled."
Q: What will you miss most about high school?
A: "I will miss the people. There are school friends that you talk to in school, but don't really converse with outside of it. Not seeing those faces everyday or greeting my teachers will make me feel a little empty."
Q: What are your plans for next year?
A: "I plan on attending any college that accepts me and I can afford without much student debt. I hope to have a fun time in college and make a lot of friends."