'Art is about bending rules': Lauren Smith's creative journey
"From walls to paper, and then moving from paper to on canvas," Senior Lauren Smith described her early career as an artist. She continues her love for art by making jewelry throughout her last year at Huron High school.  
Summer of her freshman year, Smith went to many art fairs. For her, it was really inspiring to see other people's art and their creative outlets. Smith found that these events were her first inspiration to make jewelry. While Smith talks, it's easy to hear the passion in her voice. 
As she described her accomplishments and when she received jewelry from the art fairs, her twisted gold hoop earring stood out from her colorful outfit. 
 "And it really made me think like, I want to be able to make jewelry," Smith said. "And I remembered how happy the jewelry made me when I received it, I wanted to bring that happiness to other people."  
Art teacher Soyeon Kim had Smith as a student in Personal Project during sophomore year and Smith is now a current student in her jewelry class. Kim saw Smith's passion for art. 
"She's very passionate about the subject matter and she's doing such a good job," Kim said. "She's really artistically talented and a creative person, I love her projects and how she explores with the variety of material."  
Smith's journey towards creative arts began in high school. At Huron, sophomores are required to take Personal Projects for their IB program. Smith thought it was in her best interest to make something she loved making and could work on for her Personal Project. Along the way, she found herself inspired to create a small business, making jewelry for her fellow classmates.
"And I feel like a lot of people stop, but I never really stopped making art," Smith sad. "You know, I kind of kept going and it progressed."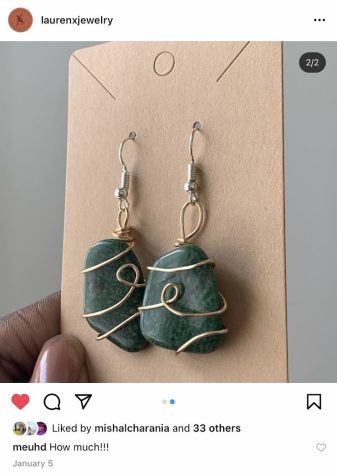 Initially, Smith was given a small budget from her supportive parents in order to buy the materials. Once she had sold some of her jewelry, she then used her profit to continue buying materials for her small business. In November 2020, her friend was a part of, The Gift of Life Foundation. Smith dedicated 15% of her profits to that foundation for a month as a donation. 
Smith's demographics enables her to sell her products to her high school classmates. 
"I feel like for the most part, people overpriced jewelry so much that when you go to stores, it can be so expensive, but it's literally so easy to make," Smith said. 
As she continues to sponsor her small business on instagram and other social media platforms, she prices her jewelry between $10 and $12. For her, prices depend on material, time and shipping. Smith enjoys making earrings the most, because she loves wearing them, they're also a good size and easy to ship. No wonder those gold earrings stuck out so much. 
As Smith has been in business for almost three years, she wants to continue making jewelry as a side job when she is in college. She's grateful she's able to help support Gift of Life Foundations from her profits. In addition, Smith has continued art classes including drawing and painting. While Smith succeeded in her jewelry business, she also succeeded in using acrylic paint in her other art class. She wants to continue art and the creativity she can accomplish in the creative arts. You might be mesmerized by her stand out art work at the Art Expedition at Huron High School, from March 14-16.  
"Art is about bending rules," Smith concluded.