Freshman Friday: Naimah Aziz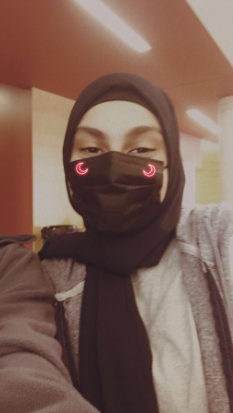 Q: Tell us a little bit about yourself and what hobbies/sports you do.
A: "I do fall/spring Huron crew, and I like to draw/paint and read. "
Q: How would you describe your transition from middle to high school?
A: "The transition from middle to high school was easy for me, but I also had an increase in the amount of work and an increase in the amount of stress for my grades."
Q: What classes are you most looking forward to taking either now or in the future?
A: "I am most interested in taking a photography class in the future because I love and enjoy taking pictures. "
Q: What are 3 words to describe your first year of high school so far and why did you choose them?
A: "Fun, I like the different opportunities I can take in high school and a little bit more freedom than I have had in middle school. Challenging, There is an increased amount of work and studying to do in high school, but I enjoy being challenged. And interesting because High school has many different electives and classes that you can take, and they're all fascinating. "
Q: How has high school surprised you so far? Were there any skills you had to learn to get work done or fit school into your schedule?
A: "I had to learn how to pace myself and make a schedule every day after school especially with sports taking up a lot of time. I have learned to be more efficient and organized with my time after school. "
Q: Who has left an impression on you in the first semester — whether it be a classmate, staff member, or teacher? Describe the impression. 
A: "I have never had a teacher that I have had a problem with, but one of my teachers wasn't a very good teacher and wasn't exactly respectful to the students. "
Q: How do you want to remember your high school experience four years later? What are you doing now or how do you plan to make that happen? 
A: "I want to remember the freedom and independence that comes in your first year of high school, and how it felt to transition to being independent and focused."