A comfortable ambiance with great food: Welcome to Bakehouse 46
Located on a busy stretch of Liberty St. in the heart of Downtown Ann Arbor, the all new Bakehouse 46 cafe may be hard to notice, but it should not be ignored. 
I went in the late fall, and inside there was a wide selection of baked goods and drinks, all of which did not disappoint. From the outside, the facade is rather simple: a modern, grey-brick building with the words "Bakehouse 46" written in large white letters. 
The moment you step inside, the smell of coffee and fresh baked goods fills the air. The atmosphere is welcoming, giving a comfortable ambiance that makes you feel at home.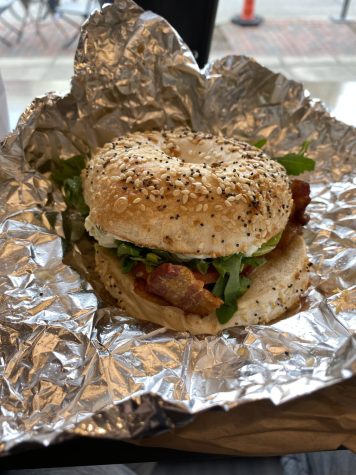 Admittedly it was quite busy, given it just opened in October and it was the Saturday breakfast rush. Regardless, once I was inside, I ordered the BLT bagel sandwich, the Cinnamon Toast Crunch donut, an everything bagel with their scallion cream cheese, and a latte with almond milk. All of these came out to $18.86 with tax included, which is a good price for the amount of food I got. 
Now the BLT bagel "Sammie" (their name for sandwich) was incredibly good and the everything bagel was delicious and the scallion cream cheese packed a delicious onion-y kick. The ingredients all tasted fresh, which applied to all of the things I ate. The everything bagel with just cream cheese was also delicious. One aspect I loved is that they didn't go overboard with the cream cheese and they put a modest amount, which makes it so you can taste both the bagel and the cheese, and that creates a great balance. 
The Cinnamon Toast Crunch donut sounded very eccentric to me, but surprisingly it tasted pretty good. The sweetness of the cereal and the frosting complemented the cake of the donut well, which wasn't overly sweet. 
Lastly, I tried the latte with almond milk, and that ended up being quite interesting. I am not a coffee person by any means, however this coffee was actually pretty nice; it wasn't too strong, and it warmed me up on that cold morning. 
Overall, the ambiance of the place was comforting, the food was great, and the price was very respectable. I would definitely recommend it to anyone looking for some nice baked goods or breakfast on a cool fall morning. I give this place 4.5/5 stars.