Simply Spanish: Fine dining on wheels
Spanish food is hard to come by, so finding a Spanish food truck was a once in a lifetime experience. After visiting York's website I found multiple unique food trucks and experienced an amazing range of cuisines. Ranging from paella and empanadas to authentic Israeli cuisine, the food trucks that stop by York are all distinctive in their origin and cuisine. After trying Simply Spanish, a food that serves traditional food from Spain, I wanted to hear the story behind owner Xavi Vetta's struggles and humble beginning as a chef and restaurant owner. 
"When I first came from Spain to the U.S., I had the idea of opening a restaurant that served Spanish food, as there weren't any that served food from Spain," Vetta said.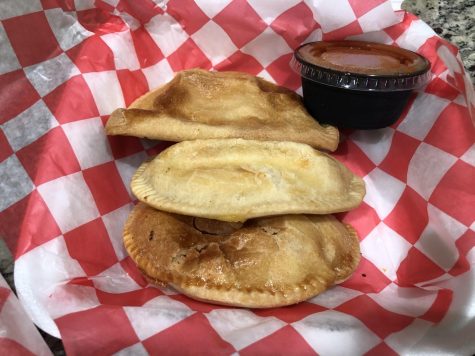 However, running a restaurant in the United States was more stressful than Vetta thought, so he decided to open a food truck- though he isn't saying that opening or maintaining a food truck is easy.
"There are many rules and regulations that have been standardized by the State of Counties you need to adhere to," Vetta said.
He also noted that the regulations can be somewhat biased. Plus, having been open for seven years, he has become very familiar with what to expect as a business owner and head chef. His mission is to immerse customers in the culture of his traditional recipes and freshly baked cuban sandwiches, paella and empanadas. 
"The most authentic meal on our menu would be the Valencia Paella, made with chicken," Vetta said. "I am clueless as to how Valencian Paella has been misinterpreted or misconstrued here in the United States, because originally Valencian Paella had chicken, rabbit, snails, bell peppers and the various beans like garbanzo, fava, green beans with saffron, spices and rice."
Simply Spanish is the only food truck that serves paella along with their other authentic Spanish recipes. Even though Simply Spanish cooks their meals similar to the original Spanish shepherds did with chicken, beans, rice and spices, many other spanish restaurants serve inauthentic recipes.
"You will never find chorizo or any other sausages, seafood, and meat mixed together in paella," Vetta said. "That is atrocious and if they do make a dish like that it is called mixed rice and never 'paella.'"
Vetta and his business partner believe that authenticity is the main purpose for their food truck creation and their freshly made entrees and appetizers display this aspiration. Since they had been struggling through the pandemic like many other businesses, the opportunity to serve at York was spectacular. 
"I think we were recommended by friends and customers from Ann Arbor and that's how we were invited to York," Vetta said. "It has been very difficult, all the usual events for the season that we were dependent on were cancelled."
Since they don't have a usual location where their food truck is parked, they travel all over Michigan from Monday through Saturday and serve lunch or dinner each day. Plus, they aren't only a food truck, they also have a delivery service that helped to maintain a steady flow of orders when most events, except at York, were cancelled. 
"We are definitely not a random food cart, we are fine dining on wheels," Vetta said. "Like our slogan goes, 'We love what we do and you will love what you try.'"