Senior Sunday: Aida Labowitch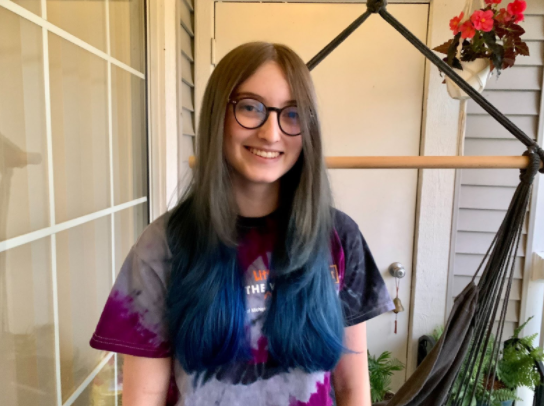 Q: Tell us a little bit about yourself and what hobbies/sports you do.
A: I am in Peer Facilitating and I go to the after school meetings. I am not in any sports. I enjoy reading, writing, drawing and playing video games, and I try to act on all of those interests regularly. I also enjoy singing; I am a member of a family band! My dad, my step-mom, my step-siblings (Becker and Sophie), and I all perform fairly frequently. It's a lot of fun.
Q: What is one class/club you would recommend to underclassmen? Why?
A: Psychology- the teachers are very caring and the class gives great insight on your peers. It gives you better empathy with others, and thus better empathy with yourself.
 Q: What is the biggest difference between freshman-year you and you today?
A: Freshman me was irresponsible and uncertain of the future. While I still have some of her flaws, I've learned a lot about responsibility and what I want from my future. I know more about college and I am getting closer every day to knowing what I want to do with my life. Before, I had so many paths in front of me that I barely knew what to do with myself!
 Q: Ten years from now, what is one high school memory you will still remember?
A: I will never forget online school. The separation from everyone and the uncertainty of Covid-19 were constantly on my mind, and I suffered as a result. Despite this, I felt extremely cared for by those around me- both my close friends, my family, and my teachers. I would have failed my junior year if I had not had that support, and for that I am forever grateful.
 Q: What is one piece of advice you would give to your freshman self?
A: Get good sleep and eat well. Your physical and mental well-being are what keep you afloat, and they're more important than they seem in the moment.
 Q: What will you miss most about high school?
A: The closeness of friendships and the ability to get in touch with friends easily.
 Q: What are your plans for next year?
A: Roadtripping and then college! I want to experience the world and all the good things it has to offer. After that, I want to get my education and then build a life for myself.