Sophomore Saturday: Richa Narappa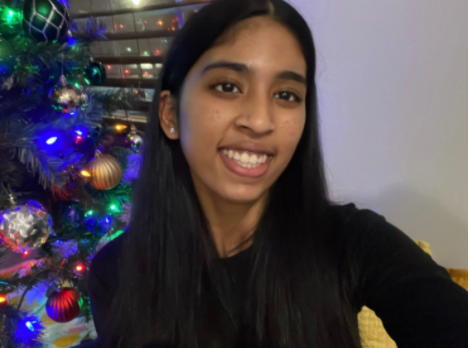 Q: Tell us a little bit about yourself and what hobbies/sports you do.
A: "My name is Richa Narappa, I'm 15 years old and a sophomore. I like to bake and cook in my free time. I also like to run and play tennis."
Q: After spending a year with classmates virtually, what's it been like to finally see people in person? Did anything surprise you about transition to in person classes? 
A: "At first, it was weird seeing people at school everyday, but then I started getting used to it. It was also nice because I got to make new friends, and was able to talk to them more often."
Q: Who helped you the most in getting through last year and why? 
A: "My friends and family helped me a lot last year. It felt nice knowing that whenever I needed help with anything, they were willing to help me."
Q: Describe something about coming back to school in person that has surprised you?
A: "The amount of homework we get and how it's given. We don't get a lot, but the deadlines are way different from last year."
Q: Which of your classes are you most excited for and why?
A: "I am really excited for Algebra 2A this semester because I get to learn new equations and expand more from what I had previously learned."
Q: What are your thoughts about personal project? What were some challenges you faced? After the hard work, are you proud of your product? 
A: "I made a Thanos-inspired chain bracelet. I liked how we were able to work on a project that we liked and how flexible our time was. One of my biggest challenges that I faced was how bad my procrastination was. After I got through everything, I was very proud of my final product. "
Q: If you could change one thing from your freshman self, what would it be? 
A: "I would tell myself to focus more, and try not to get to a point where I'm stressing out so much, and remind myself that everything would be okay."