Senior Sunday: Ethel Kim
Q: Tell us a little about yourself.
A: "My name's Ethel Kim and I am currently a senior at Huron. I was born in Pittsburgh, PA, and moved to Ann Arbor in the 4th grade. I'm South Korean and can speak the language fluently. For future plans, I have committed to the University of Michigan and hope to major in neuroscience on a pre-dental track."
Q: What is your favorite class and why?
A: "My favorite class this year is BC Calculus because I have always comprehended math better than other subjects. I also enjoy the class because of the teacher who is very sweet and teaches calculus in a way that I can understand easily."
Q: What hobbies/sports/clubs do you do and why do you like them?
A: "Baking or cooking, reading, hiking, and going on drives with friends are some of my favorites pastimes. They're all ways that I can get my mind off of schoolwork and stress in general. I'm a part of Huron's Green Team's board, which is an environmental club that organizes projects, like battery drives, to make the community more eco-friendly. I enjoy being a part of this club as climate change is a topic that I'm passionate about."
Q: Once the pandemic ends and social distancing restrictions are removed, what's the first thing you plan to do?
A: "The first thing I plan to do is meet up with all of my friends and give them hugs. I haven't been able to see many of my friends for over a year and I miss the social and physical interaction that used to be so normal during pre-pandemic times."
Q: What's an interesting/unique fact about yourself?
A: "An interesting fact about me is that I have hitchhiker thumbs and double-jointed middle and ring fingers."
Q: What is one lesson the past year has taught you?
A: "This past year definitely has helped me learn about the importance of prioritizing self-care."
About the Writer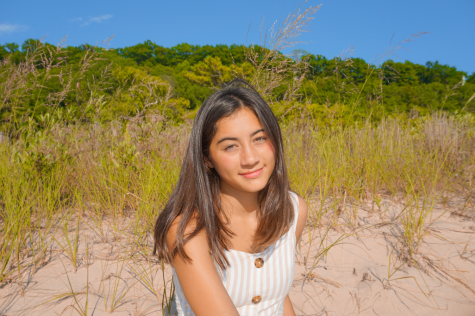 Verena Wu, Staff Writer
Verena is a senior at Huron. This is her first year writing for the Emery and she's excited to learn about the community by writing articles. She is...