Senior Sunday: Garrett Jin
Q: What has been your most memorable part of high school? 
A: "Junior year at Interlochen. I remember in this year our friend group was particularly tight, sitting at tables and eating food together, playing cards at picnic tables, visiting the stores and getting ice cream together and even throwing grass at each other at the marching field. While there I was given the first chance to be a leader for once and that gave me some unique experiences."
Q: What activities do you participate in and why? 
A: "I participate in Ocean Bowl, Science Olympiad, yearbook and most prominently band. I do this partly because I don't see why I shouldn't continue them after so long but also because they gave me chances to meet people that I really like and care about. In Ocean Bowl and Science Olympiad, I'm also led on by the subject matter even though I don't want to go into the subject matter. In yearbook, I enjoy putting work into a product as well as communicating with people I don't know because I think it helped to advance my social skills. And for band, playing music is really fun and knowing that I'm making an impact by playing for those who really need it is nice as well."
Q: What's your favorite and least favorite class?
A: "My favorite class this year at least is AP Macroeconomics because it is something that I want to continue studying in college wherever I go. It has a lot of overarching and big ideas that are more so conceptual and hypothetical and not as clear cut and that just fascinates me because I want to see these things play out in reality or look back on how these things affected economies in history. My least favorite class is AB Calc. I never thought as though I particularly struggled with math in the past at least when I was relegated to take regular versions of math classes but this year was a total struggle. I'm plainly not interested in math and although my ideal field of study likely demands it, in calc it becomes so meta that it's hard to find a use out of it personally."
Q: What is something you are excited about? 
A: "I'm not extremely excited about it, but I'm currently waiting on waitlist decisions."
Q: Where do you see yourself in five years? 
A: "Applying for grad school to somewhere in the midwest or east coast, or pursuing or working in an internship."
Q: Who do you look up to you and why?
A: "My parents because not only are they encouraging but also want to see me succeed every day. Not to mention they work well in their respective environments as I should know and I want to be like them."
Q: What does it mean to be a senior in your opinion?
A: "Being a senior to me should be when you realize you know enough to know you know nothing, just as Socrates said."
About the Writer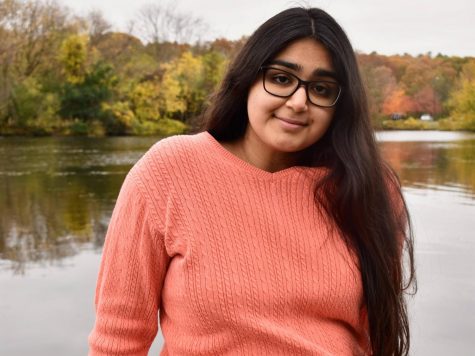 Mishal Charania, Managing Editor
Mishal Charania is currently in her senior year at Huron high school and works as the managing editor for the Huron Emery. She is also the editor-in-chief...