A passion for code: Why computer science matters
When students walk into room 4202, the corner behind Kevin Behmer's desk looks more like a museum than a classroom. Surrounding his desk are old computers, typewriters and technology of the past. He teaches Advanced Placement (AP) Computer Science A, AP Computer Science Principles and DP Computer Science SL/HL Year-1 and Year-2. He has a love for computer technology.
Behmer is not alone in his passions. Ann Arbor Public Schools offers courses and clubs in this field across all grade levels to help students understand the technology around them. 
"Computer Science is important because it has such far-reaching areas of applicability," Behmer said. "Cars, phones, games, banking, commerce, social media, education all have experienced significant-tech thumbprints."
Students start with introductions to coding as early as kindergarten.
"Elementary school includes computer science in the curriculum since the world is modernizing at a rapid rate with an immense amount of new technological improvements every day," junior Vishal Srinivasan said. "For a student to succeed in the world, they need to be educated in regards to computer science to stay up to date and to have a competitive advantage compared to students who are uneducated in the field of computer science."
Statistics show that 1.4 million computer science-related jobs would be available but only about 400,000 computer science graduates have the skills to apply for those skills. An average early career salary of $68,600 and a mid-career salary of $114,700 was earned by computer science graduates.
"There is a tremendous lack of computer science graduates produced annually that being well-trained in the discipline practically guarantees a good-paying job with good benefits and working with good people while solving puzzles and problems," Behmer said
Senior AP Computer Science student Youssouf Sidibe has participated in competitions for Business Professionals of America (BPA) and Huron Cybersecurity club. 
"Computer Science is an ideal choice for elementary school students as it allows them to apply basic algorithms and arithmetic skills they've already been taught in math," Sidibe said. "Also, apply that into programming with commands and statements to create cool mini-games and apps that people use in our everyday lives." 
Youssouf added more about the benefits of computer science.
"Putting confidence in computer science also helps build the critical-thinking skills necessary in the future as it involves lots of trial and error and 'debugging,' finding and fixing coding errors," Sidibe said.
Behmer agrees.
"My favorite part of teaching computer science is that it is a great balance between math and science class experiences," Behmer said. "Problem-solving with a really cool tool, opportunities to express one's individualism through code as well as occasions to work both individually and cooperatively."
About the Writer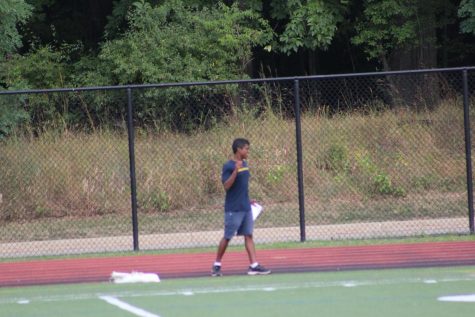 Visruth Rajendiran, Staff Writer
Visruth is a junior at Huron High. This is his first year on the Huron Emery. He was the team manager for the Huron Boys soccer team last year, and now...