Detroit Cookie Company coming to Ann Arbor
Amid the pandemic, the Detroit Cookie Company is opening a second location in downtown Ann Arbor. Taking over the site of an old hamburger joint, this small and innovative company's new location can be found at 609 E. William St., conventionally located in the middle of downtown. Owner Lauren Roumayah is excited about the expansion and believes it's the best idea for her small, yet enormously successful business. 
"We always wanted to open multiple stores but it wasn't until we had about a year of retail experience at our Ferndale location that we really started to scope out potential locations," Roumayah said. "We wanted to be sure that our concept was scalable and that we weren't biting off more than we could chew."
Opening a few weeks ago, the Detroit Cookie Company is a local business with only one other location in downtown Ferndale, Michigan. Even though the business is now only a single shop, the company also offers online shopping, pickup as well as delivery.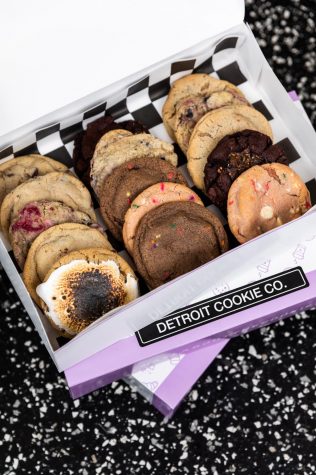 "Shipping packages was always something that we offered but never promoted as heavily as we did during the beginning of the pandemic," Roumayah said. "We also installed a walk-up window so people have the option to place a preorder and pick it up, instead of having to come into the store."
 Their innovative cookie flavors are brought on by Roumayah's desire to spread the love of cookies to people with all different taste buds. Some of the flavors in the new location coming to Ann Arbor include Peanut Butter Volcano described on their website as, "ultimate PB cookies piled with creamy peanut butter coated with chocolate & dusted with graham cracker crumbs," and the BIG 3 which is a combination of, "Better Made™ Potato Chips, Michigan dried cherries, & chocolate chips." The company serves multiple different styles, types and flavors of their cookies, including rotational jumbo cookies that are stuffed with things such as peanut butter or marshmallows.  
"When we first started I would decide on the cookie flavors," Roumayah said. "I love creating flavors from my childhood and things that spark joy in people. With all of our cookies, we experiment until we find the perfect recipe. When deciding on a cookie I ask myself, What would the kid me like?"
However not only do they have unique cookies, they also serve coffee, brownies, blondies, ice cream and cinnamon rolls. Each day they rotate different treats, cookie flavors, and surprise XL cookies. Their prices range from $2-5 for their specialty cookies, but have deals such as $12 for a half dozen and $22 for a full. However, since the XL cookies come with extra flavor, they also come with an extra cost of about $1 depending on the flavor. Make sure to come into the newly opened shop Jan. 1 and try Roumayah's annual Andes Mint Chocolate Chip cookie, or her favorite, the Brown Buttered Pecan.