Freshman Friday: Preston Hermansen
Q: Tell us a little about yourself.
A: "I like to cook, paint and draw. I am a cat and dog person, and I also like to skateboard."
Q: What is your favorite class and why?
A: "My favorite subject in school has to be french because it is fun but also challenging at the same time. It is a great way to open up opportunities to different types of people I can speak to and learn from in a whole different language."
Q: What hobbies/sports/clubs do you do and why do you like them?
A: "Some hobbies and sports I'm interested in are basketball, skateboarding and snowboarding. I do these sports and hobbies because in each one of them, you can have your own style. Especially skateboarding and snowboarding. There is so much freedom with the sport and great ways to be innovative."
Q: Once the pandemic ends and social distancing restrictions are removed, what's the first thing you plan to do?
A: "Once the pandemic ends and social distancing is removed, the first thing I plan on doing is going to my local gym with my friends to play basketball like I use to all the time before the pandemic started."
Q: What's an interesting/unique fact about yourself?
A: "An interesting fact about myself is that I learned how to juggle oranges during this pandemic."
Q: What is one lesson the past year has taught you?
A: "A lesson that the past year has taught me is to be patient and to take care of myself before other people."
About the Writer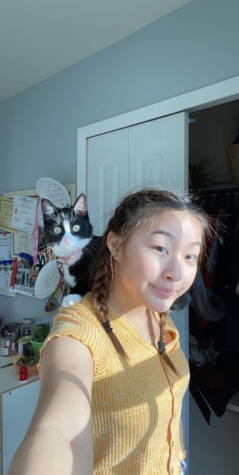 Julie Park, Design Editor
Julie Park is a senior at Huron High School. This is her second year working on the Emery and she is currently the design editor. She has two cats and...