Teacher Tuesday: Salvador Barrientes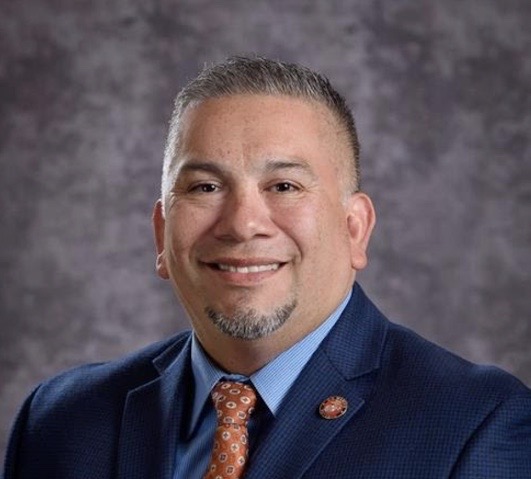 Q: Tell us a little bit about yourself.
A: "I'm originally from Saginaw, Michigan. I'm married with 2 adult children and 2 high school students. We also have a dog–Dexter. I was in the military for 6 years. I've been in education for over 15 years. I graduated from EMU with both my bachelor's and master's degrees. I have a K-12 Administers Certification from the Michigan Department of Education. I taught at Scarlett Middle School for about 10 years. I worked at Skyline High School for 1 year as one of the Assistant Principals. One interesting fact is that my wife and I were high school sweethearts."
Q: What has been your favorite part about this school year?
A: "One of my favorite parts of the school year has been creating the Friday Advisory slide show; I miss the classroom."
Q: What do you miss about Huron?
A: "As this is my first year at Huron (as an Administrator), I'm not sure what I miss. But I do know that I miss seeing students every day in the hall."
Q: What is one goal you have for this year?
A: "One goal I have is for students to feel and sense that we care about them and want them to be as connected to the Huron community as possible."
Q: What is your favorite class and why?
A: "My favorite classes are the social studies and ELA classes (I was an ELA teacher for 15 years)."
Q: What hobbies/sports do you do?
A: "A hobby I have is working on my lawn (we have about 4 acres). I love to be outside spending hours splitting wood, mowing the grass, and beautifying the property. It's a great feeling to look back at the lawn once it's all finished."