Huron rowing team reflects on COVID-19 safe season
The Huron rowing team is known for their dedication to their sport, and COVID was not going to put the fall season on hold.
Coaches Mike Taft and Barb Kraft, along with the rest of the coaching staff developed an "in-house" fall rowing season that allowed the crew team to return to the water without outside competition. Restrictions included small groups, social distancing, mask wearing and increased cleanliness for the team to practice.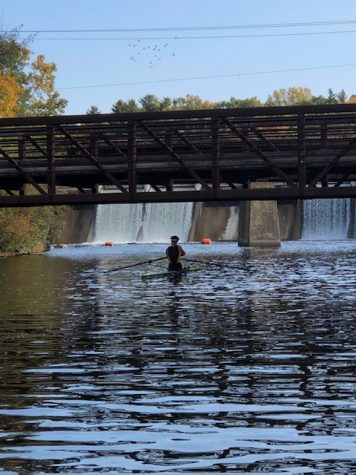 The rowers were divided into four workout pods with 15 or fewer people, and practice time was shortened to allow all four pods to finish practice before sunset.
"Getting enough coaches to manage four pods was the biggest concern," Taft said.
Practice took place at Bandemere Park where the Huron Boat House is located. The pods rotated workouts on land and water so all rowers have two to three days on the water. Regattas and competitions weren't available.
"The team needs more equipment to meet the demands of small groups," Kraft said. One or two person sculling boats are the only option for rowers this season, instead of the large 8-person sweep boats.
"The opportunity to try small boats, singles and doubles has been the best part of the season," Taft said.
With this change, coaches have been impressed with the flexibility and commitment of the rowers. For varsity junior Leela Raghavendran, the season came as a surprise but she is still grateful for it.
"A lot of the pressure from top rowers has been somewhat eliminated," Raghavendran said.
Her teammate, varsity junior rower Iva Panyovska, didn't hesitate to join for the third year in a row.
"Being able to still workout as a team and getting a chance to row a double was the best part of the season," Panyovska said. "The most challenging part was figuring out how to skull and keep timing in sync with a partner."
Both coaches Taft and Kraft talked about missing the team camaraderie and sense of one big team this season. They look forward to bringing the entire team together when it is safe.