AAPS engineering teachers 3-D print face shields to fight COVID-19 PPE shortage
Amid the COVID-19 pandemic, personal protection equipment (PPE) for healthcare workers is in desperately short supply. Ann Arbor's own engineering teachers have stepped up to help the fight by 3-D printing face shields. 
The "Operation Face Shield" effort was picked up by Ann Arbor STEAM engineering teacher Bill Van Loo, who said the idea of 3-D printing masks "was really a collaboration of the maker community." 
He learned of the effort from Ann Arbor local and registered nurse Kevin Leeser, who found the design from a Czech company called Prusa3D. Prusa3D published the 3-D face shield design that could be printed by 3-D printers worldwide, allowing anyone with a 3-D printer to help produce PPE. Each shield consists of four parts: a headband, a rubber band, a piece of plastic transparent plastic and a bottom piece securing the protective visor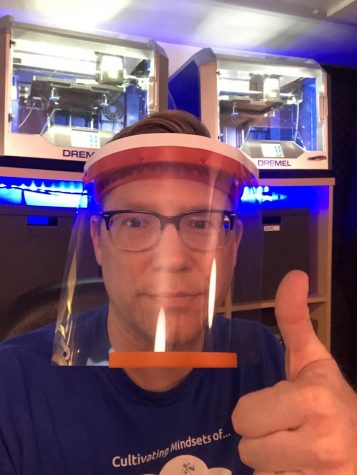 When Van Loo joined the effort, he immediately set out to recruit other AAPS engineering teachers to help out and do the same.
Robert Cupit, one of Huron's own engineering/PLTW teachers, has also started 3-D printing masks in his own home using Huron Engineering's 3-D printers.
"The process is pretty simple but lengthy," Cupit said. "We modified an existing CAD file face shield design…and imported it into a Slicing software that cuts solid objects into layers. Once again, we then export the new sliced file into our 3-D printing software to actually 3-D print the parts. Once the part is printed we use our Cricut machines to cut transparency paper to make the actual clear shield. The final step is assembly which also includes attaching the band around the back of the head support." 
One major advantage of 3-D printing PPE is its low cost. Each face shield takes about $2 to manufacture, while regular face masks can range from $20-50 st market value. Additionally, anyone with a 3-D printer could produce a mask. Production of each face shield has been cut from five hours to two to three hours by eliminating various inefficiencies, and over 250 shields have already been made. 
One of the hardest parts of the project is distributing the masks to people who need them. Van Loo explained that many had neighbors in the healthcare field who were distributing masks by word of mouth. The responses were very positive, the GoFundMe goal for the 3-D printing was broken in just over 24 hours.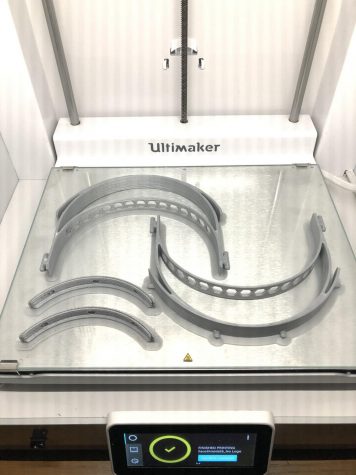 "[A respiratory healthcare professional] actually burst into tears when we showed her the shields, because they were so short on masks," Van Loo said. 
Dozens of masks have already been sent out everywhere, from healthcare providers to nursing homes. 
Cupit urges people to "spread the word about what we are doing via social media as it would allow our group to continue to help as many medical professionals as we possibly can." Additionally, anyone with a 3-D printer, or knows healthcare providers who need masks is strongly encouraged to contact the Operation Face Shield Ann Arbor Facebook group to help the cause.