The Emery's Top 15 College Football Teams: Pre Week 11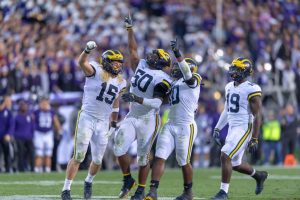 The college football season has been all but predictable this year, with many surprises, we come to you with our pre week 11 top 15 rankings.
(1) University of Alabama
(10-0)
The consensus is that 1-2 will be Clemson and Alabama, not necessarily in that order, but we chose to go with Alabama due to their pure dominance. With a convincing 29-0 road win over LSU, who was ranked no. 3 at the time, the Crimson Tide's must begin to prepare for the already locked in SEC conference championship game against the Georgia Bulldogs. We don't see the Tide being thoroughly challenged until that game, and look for them to continue their dominance over the SEC
(2) University of Clemson
(10-0)
While no top team can go through a season without bumps, Clemson's season has been bumpier than most. A freshman quarterback with no experience was chosen over a quarterback with proven playoff experience in one of the most confusing moves of the year. After a 27-23 come from behind scare against the Syracuse Orange, this Clemson team has looked downright dominant with the most recent victory coming against the Louisville Cardinals by a whopping score of 77-16
(3) University of Michigan
(9-1)
Our number 3 team may come as a bit of a shock, but we're going to go with 1-loss Michigan here, due to their quality wins. After beating Wisconsin and Penn State by 50 combined points, and going through a complete offensive transformation after the opening-weekend loss to Notre Dame, paired with the best defense in the country, Michigan looks dangerous.
(4) University of Notre Dame
(10-0)
Our number 4 team is the Fighting Irish of Notre Dame. They have 1 quality win over Number-3 Michigan but have played many close games against mediocre teams, including games within 10 points against Ball State, Vanderbilt, Pittsburgh, and Northwestern
(5) University of Oklahoma
(9-1)
is our number 5 ranked team because they have performed up to par all season save for a singular slip up against Texas in the Red River Rivalry game. With their high octane offense, in our opinion they would give Alabama some trouble, but not as much as teams like Georgia and Michigan. We have them ahead of Georgia because inevitable Georgia will have to play Alabama in the SEC Championship game, we predict that they will lose, if they do Georgia should not get two shots at beating  #1 Alabama.
(6) University of Georgia
(9-1)
comes in at number 6 because they are an all-around team that can threaten Alabama's SEC crown, and with the recent resurgence of the traditionally high-powered run game we've seen from Georgia teams past. We have them ranked behind Oklahoma because they will have to play Alabama in the SEC Championship contingent on both teams winning out.
(7) The Ohio State
(9-1)
is at number 7,  we like what we saw from them at the beginning of the season, and how the defense is adjusting after the loss of Nick Bosa who wanted to put a halt on his season in order to avoid injury and prepare for the NFL draft in which he is projected by many to go number 1 overall. Ohio State's offense looks dangerous with Dwyane Haskins leading the charge.
(8) West Virginia University
(8-1)
is number 8 because they have a strong wins over 2 ranked teams, and have one of the best offenses in the nation. A showdown at the end of the year with Oklahoma, and then another potential matchup with in the BIG 12 Championship Game them could give them 2 more ranked wins should they win both.
(9) Louisiana State University
(8-2)
LSU is number 9 because they have 3 quality wins, and an outrageously good defense, they have two losses, one to top 15th ranked Florida, and 1st ranked Alabama. They also  have a very tough strength of schedule.
(10) University of Central Florida
(9-0)
UCF is ranked 1o because of their complete dominance over their opponents, they do have a very weak strength of schedule, but they have not lost a game in 22 games dating back to the 2016 season
(11) Syracuse University
(8-2)
We have syracuse ranked 11th because of their very good record, and despite having 2 losses, one of those losses are to #2 Clemson, and they only lost by 4 points.
(12) University of Texas
(7-3)
We have Texas ranked 12th because they beat playoff contender #6 Oklahoma, and kept it to a 1 point loss to slightly less of one but still a playoff contender West Virginia.
(13) Washington State University
(9-1)
Despite a bad SOS (strength of schedule) they are #1 in The Pac 12. They have AP ranked wins over Oregon and Stanford.
(14) University of Florida
(7-3)
We have Florida ranked 14th because of their huge win over LSU, but they are stuck at 14 because of their amount of bad losses.
(15) Iowa State University
(6-3)
Great win over playoff contender West Virginia, and they also beat Oklahoma State, and kept #5 Oklahoma to within two scores.