The Sister City Exchange Program with Tübingen is back at Huron in five years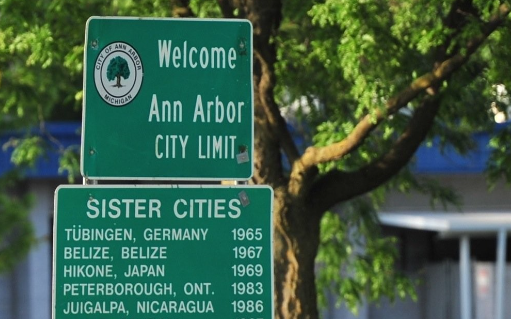 The city of Ann Arbor shares a life-long history with its sister city across the globe: Tübingen, Germany. Ever since 1965, Ann Arbor has kept an educational partnership with Tübingen, establishing the Sister City Exchange Program. 
The program, part of the German-American Partnership Program(GAPP), is an every-other-year tradition in the Ann Arbor Public School district to send and host students from both cities to explore and learn new cultures and languages. Despite this close sisterhood, the program had been on indefinite hold due to the COVID-19 pandemic since 2020. 
As the number of COVID-19 cases continues to decrease worldwide, Huron was finally able to host students from Tübingen again this year. 22 students and 1 teacher will be joining classes at Huron while staying with Huron families from May 15 to June 4. 
"The German students will attend classes with a Huron student," Huron German teacher Andrew Smith said in an email sent to Huron staff. "They are expected to behave appropriately and participate as the teacher directs."
Dates for Tübingen students to be at Huron are as follows: May 16, 19, 22, 26, 30, 31, and Jun. 2.