Huron and Clague Publications win over 100 awards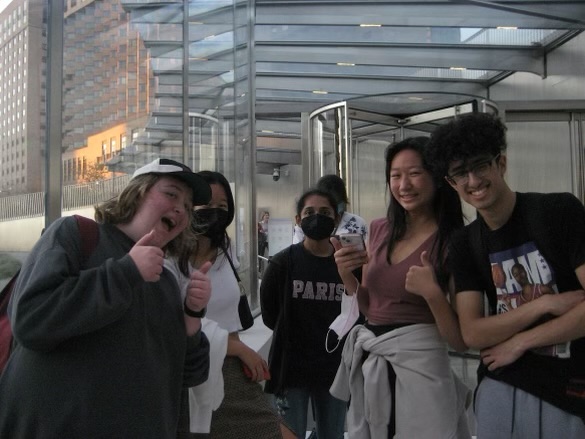 This month, the Michigan Interscholastic Press Association (MIPA) released the results for the spring 2023 season. Huron Publications have won 75 awards in total.
Seniors Sandra Fu, Morgan Horgrow, Ridhima Kodali, Allison Mi and Natalie Scarlett were recognized on the journalism staff. In addition, Mi earned the All-MIPA recognition for Digital Media and Kodali earned the All-MIPA for News reporting and writing. 
Kodali was named the Michigan Journalist of the Year and competed at the national level.
Clague Middle School's publications, "The Cougar Star" and "Paw Prints," advised by Sara Beth-Badalamente and Emery members Ridhima Kodali, Allison Mi and Satvika Ramanathan, earned 30 awards. Mia Lin, from Clague Middle School, was awarded Michigan aspiring young journalist of the Year and went on to compete nationally. She won the National Aspiring young journalist award from the Journalism Education Association.
The Emery:
Personality Profile Social Media Coverage:
Staff (First Place)
Sports News Social Media Coverage
Quinn Newhouse, Ridhima Kodali and Sandra Fu (Honorable Mention)
Social Media Video
Sandra Fu (3rd place)
Social Media Promotion: 
Ridhima Kodali (Honorable Mention)
Audio News Feature Story:
Maya Fu (1st place)
Audio interview:
Maya Fu (2nd place)
Podcast: 
Maya Fu (1st place)
Video Interview
Allison Mi (Honorable Mention)
Annabelle Ye and Allison Mi (Third Place)
Multimedia Story Package
Allison Mi (Third Place)
Video Journalism
Ridhima Kodali, Annabelle Ye and Quinn Newhouse (Honorable Mention)
Feature Columnist 
Anita Gaenko (1st Place)
Advertising Layout:
Sandra Fu (2nd place)
Front Page Newspaper Style
Ridhima Kodali and Kelly Park (2nd place)
Satvika Ramanathan and Sandra Fu (2nd place)
Illustration
Anna Lee (Honorable Mention)
Information Graphic
Kelly Park and Allison Mi (3rd place)
Front Page News magazine style:
Anna Lee (Honorable Mention)
Story Package
Ridhima Kodali, Allison Mi, Anna Esper (2nd place)
Anonymous, Zain Charania & Kelly Park (1st place)
Editorial opinion page or spread:
 Kelly Park (Honorable Mention)
Samantha Goldstein (First place)
Feature Page or Spread;
Staff (2nd place)
Sports page or spread:
Annabelle Ye, Ridhima Kodali (Honorable Mention) 
Sports page or spread:
Zachary Phelps and Sandra Fu (2nd place)
Sports page or spread:
Gina Ko (Honorable Mention)
Entertainment page or spread:
Annabelle Ye, Audrey Zhao and Sandra FU
Sports Action Photo
Gina Ko (1st place)
News-Feature Photograph
Gina Ko (Honorable Mention)
Gina Ko (Honorable Mention)
Environmental Portrait
Sandra Fu (3rd place)
Sandra Fu (1st place)
Photostory
Sandra Fu (Honorable mention)
Gina Ko, Daniel Lee, Sandra Fu
Breaking News Coverage
Ridhima Kodali, Quinn Newhouse (2nd place)
News Analysis:
Samuel Kerekes (Honorable mention)
Anita Gaenko (First place)
Staff Editorial
Daniel Lee (Honorable Mention)
Bylined Opinion Article: 
Anjali Nadarajah (2nd place)
Anita Gaenko (1st place)
Review:
Jackson Pollard (Honorable Mention)
Daniel Lee (3rd place)
In-depth Feature
Ashley Kim (3rd place)
Tarik Fermin, Anjali Nadarajah, Maya Fu (3rd place)
Informative Feature:
Anna Esper and Zach Phelps (Honorable Mention)
Human Interest Feature:
Maya Fu (Honorable Mention)
Personal Narrative:
Allison Mi (3rd place)
Anonymous (2nd place)
Personality Profile:
Ridhima Kodali and Satvika Ramanathan (2nd place)
Diversity Coverage:
Satvika Ramanathan, Madeleine Pale, Kelly Park & Berenice Venegas-Gonzales (Honorable mention) 
Gina Ko (3rd place)
Alternative Story Form:
Jamie Tang and Allison Mi (Honorable Mention)
Sandra Fu (2nd place)
Sports News Story:
Zach Phelps (3rd place)
The Enthymion:
Feature Writing Student Life:
Natalie Bohnsack and Gino Ko (Honorable Mention)
Morgan Horgow (3rd place)
Feature Writing Academics:
Ridhima Kodali (Honorable Mention)
Personality Profile:
Natalie Scarlett (Honorable Mention)'
Ridhima Kodali (1st place)
Student-Life spread:
Jason Ervine, Mohammed Hammoud & Natalie Bohnsack (Honorable Mention)
Academics Spread 
Rio Ohtake (honorable mention)
Portrait or personality Photo:
Ridhima Kodali  (Honorable Mentionon)
Organization, Club or Performance Photo:
Allison Mi (1st place)
Alternative Story Form presentation 
Samaria Haney and Kaylee Burton (Honorable mention)
Mod or side-bar coverage
Mia Dubin (2nd place)
Feature Presentation – individual Spread
Lauren Dubin (Honorable Mention)
Theme Development 
Staff (Honorable Mention)
Cover 
Elena Leucht (Honorable Mention)
Opening and Closing
Elena Leucht and Morgan Horgrow (3rd place)
Division Pages
Elena Leucht and Morgan Horgrow (Honorable Mention)
Colophon
Morgan Horgrow (First place)
Cougar Star:
Breaking News Social Media Coverage:
Mia Lin (Honorable Mention)
Social Media Video: 
Sophia Zheng and Kayla Fu (2nd Place)
Interactive Graphic:
Annabella Mi (Honorable Mention)
Interactive Graphic:
Mia Lin (2nd Place)
Editorial Cartoon:
Gina Wallace (Honorable Mention)
Illustration:
Staff (Honorable Mention)
Illustration:
Annabella Mi (Honorable Mention)
Illustration:
Annabella Mi (2nd Place)
Sports Action Photo:
Benson Liang (Honorable Mention)
Sports Action Photo:
Benson Liang (Honorable Mention)
News-Feature Photograph:
Jaewon Lee (Honorable Mention)
Environmental Portrait:
Annabella Mi (Honorable Mention)
Environmental Portrait:
Jaewon Lee (Honorable Mention)
Photo Story:
Benson Liang (Honorable Mention)
Breaking News Coverage:
Annabella Mi (Honorable Mention)
Breaking News Coverage:
Mia Lin (Honorable Mention)
News Analysis:
Mia Lin (Honorable Mention)
News Brief:
Benson Liang (Honorable Mention)
Pro-Con Opinion Columns:
Mia Lin and Annabella Mi (Honorable Mention)
Personal Narrative:
Annabella Mi (Honorable Mention)
Personal Narrative:
Janet Yang (Honorable Mention)
Diversity Coverage:
Ashley Han (Honorable Mention)
Sports News Story:
Anna He (1st Place)
Paw Prints:
Academics Spread:
Srishti Jadhav and Sophia Latouche (Honorable Mention)
Organization Spread:
Mia Lin (Honorable Mention)
Alternative Story Form Presentation:
Lakshya Jaiganesh (Honorable Mention)
Theme Development:
Mia Lin, Lakshya Jaiganesh, Ellise Baidel, Benson Liang, and Jiaqui Huang (Honorable Mention)
Cover:
Mia Lin (Honorable Mention)
Division Pages:
Mia Lin, Lakshya Jaiganesh, Benson Liang, Ellise Baidel, and Jiaqui Huang (Honorable Mention)
Colophon:
Mia Lin (Honorable Mention)