New 9th Grade World History and Geography IB Teacher: Noa Knoerl-Morrill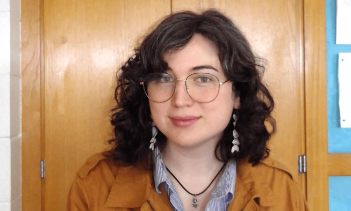 The new 9th Grade Social Studies IB World History and Geography teacher Noa Knoerl-Morrill is excited to be a part of Huron High School. 
"Hi! I'm Mx. Knoerl-Morrill (although Mx. K or Ms. K are fine too), and I'm so excited to have gotten started teaching history at Huron last month," Knoerl-Morrill said. "I was born and raised in Washtenaw County, and stayed to get both my undergrad linguistics degree and my master's in education at U of M. I love fantasy/sci-fi novels, indie tabletop games, cooking, and singing, so come talk to me about what you're reading, playing, making, or listening to, and I'd love to check it out!"
For Noa Morrill, becoming a teacher was something she always thought about growing up in the early 2000s (and I'm sure the 2010s felt similar to you all), but it often felt like problems in the US and around the world were getting worse, but nobody was doing anything about it. Growing up with this sense of hopelessness made me want to support young people in rising to meet the challenges our generations have been burdened with resolving, and doing that, I believe, starts with education.
  "First and foremost, I want to be there for my students, and support people as best I can in whatever their goals are," Knoerl-Morril said. "Academically, and I know this sounds silly, another main goal is making sure students leave my class understanding how to analyze a source really well. In our current world of fake news, AI, and political polarization, it's so important for us to always be searching for the truth, and to know when to pause and think, "gosh, this sounds kinda like propaganda" (but also when to trust experts and move on with our lives). I'm hoping I can support folks in building that instinct. I'd also love to get more involved at Huron, and can't wait to get to work in social studies–related extracurriculars!"