Freshman Friday: Luke Bunnell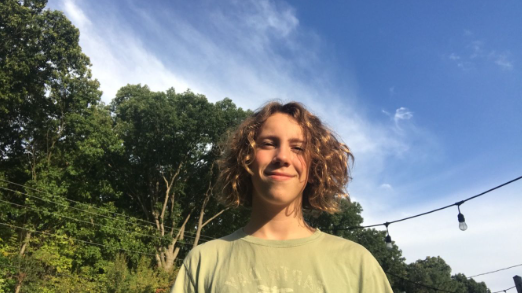 Q: Tell us a little bit about yourself and what hobbies/sports you do.
A: My name is Luke Bunnell, I'm 14. I went to Thurston Elementary School and Clague Middle School. I play water polo here at Huron, and I am currently a part of Green Team. I like to bake, swim, and think about traveling! 
Q: How would you describe your transition from middle to high school?
A: "I'd say I was expecting it but was not prepared for it. Even though it was a big workload adjustment, I am enjoying the independence that comes with high school."
Q: What class was the most interesting this year and why?
A: "I think that the most interesting class so far is Biology. I love learning about the small details that go into basic life!"
Q: What are 3 words to describe your first year of high school so far and why did you choose them?
A: "Independent, exciting, and stressful. I chose independent because my classes give me more personal responsibility. I chose exciting because the change from middle school to high school feels a lot bigger than elementary to middle. I chose stressful because high school has a big influence on the rest of your life, so I don't want to mess it up."
Q: How has high school surprised you so far? Were there any skills you had to learn to get work done or fit school into your schedule?
A: "I was surprised about the size of the building. I knew it was going to be big, but sometimes I think a hallway is going to last forever. I've definitely had to learn to stop procrastinating because I used to save everything for the last minute, but I can't do that here, especially with the increased workload."
Q: How do you want to remember your high school experience four years later? What are you doing now or how do you plan to make that happen? 
A:  "I want to look back and see that I enjoyed myself. I know high school is going to influence my future, so I want it to have a positive feel, rather than a negative one. I want to make lots of new friends and find a subject I enjoy enough to have it as my career."