After 42 years at Huron, the legend retires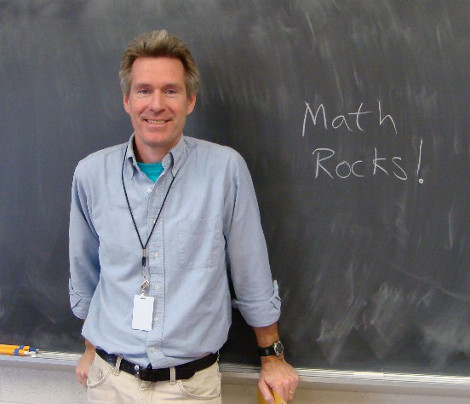 In the fall of 1982, Peter Collins, a University of Michigan '80 graduate, drove up to Huron High School in his "old beater": a blue Mercury Lynx. Collins' first impression of the school was that it looked like a community college. That it looked beautiful. Perfect for a three year teaching stint. A temporary place to camp out until he bumped into some unknown, great calling for his life's purpose. However "temporary" turned from two years, to three, to four, and suddenly 42. 
"I must have liked working here, I guess," Collins teased. "I think I just fell into this habit of coming back every fall. It's a testament to my relationship to the job and to the people."
According to math teacher Betsy Clyde, Collins' friend and colleague, if anyone can make it 42 years without losing their mind, "that is inspirational."
And Collins didn't just make it 42 years — he loved it. In fact, out of those four decades, there have only been five days when he woke up thinking, "I don't want to go to work today.""
And everyday, he embarks his black Trek bicycle at 7 a.m. to glide down Huron Parkway and be more "up close and personal" with the scenery on the way to work.
"Just a man and his thoughts on a bicycle," Collins said.
In 1987, after the previous math department chair retired, Collins took over and taught his first calculus class, his favorite subject to teach.
"Every year, I feel like I learned something new," Collins said. "It's such a beautiful subject."
A prevailing reputation for Collins is his effortless ability of unraveling calculus in a simple and engaging way for his students.
"He makes many inside jokes and feels less like a teacher and more of a friend," said junior Timothy Baker, who had Collins as a teacher during Collins' last year at Huron. "He's just very welcoming. You feel like you can ask as many questions as you want, and he provides many thoughtful examples during class." 
For instance, when Collins was teaching about one-to-one mapping, he explained how every value in the chart connects to another.
"Everyone has a dance partner," he said. "No one is sitting against the wall watching everyone else dance. Everyone's happy."
Collins' favorite part of teaching is beyond implicit differentiation or Taylor series or solids and revolutions. It's getting to know students as people.
"I think a lot of times students think that if they're bad at math, that means I'm not going to like them as a person," Collins said. "And if that were my attitude, I never would have married my wife. Sure, she's not a math person. But I've learned not to judge people by that."
Having taught at Huron for so long, Collins has seen about everything. 
"I've taught students who were Olympic medal winners, but on the other side, I've taught students who were murdered, students who were murderers," Collins said. "I've seen the whole gamut."
It has also become part of the routine for him to teach multiple generations of a family. Almost 30 years into his time at Huron, he had a student that had a last name that looked familiar.
"Do you have any relation to so and so?" Collins asked.
"That's my dad," the student said.
"And I said 'What!?'" Collins recounted. "It kind of struck me for a loop. Now it's not as weird as it used to be. I mean every year is a little less than usual. I'm older. But I enjoy that."
Last year, Collins was stopped by a middle-aged man at Home Depot, only to find out he was a student during Collins' first year of teaching.
"I was used to him as a 14 year old boy, and now he was this 54 year old man," Collins said. "He was married, had kids of his own. He told me how much he enjoyed having me as a teacher. Those things are really nice."
That "unknown, great calling" Collins was waiting to stumble across while temporarily teaching at Huron? Turns out he was already living it.
"I know I was supposed to marry my wife," Collins said. "I know I was supposed to have the kids I had. And I know I did with my life what I was supposed to do."
Four years ago, Collins and his wife laid out a plan and decided he would retire before the summer he turned 65, the summer of 2022.
"I'd like some time to enjoy the world," he said, "while I'm still physically capable of doing it."
During retirement, he plans on continuing to write crossword puzzles, going on bike rides, and teaching at the University of Michigan's summer Bridge Program, a 7-week program for students — often high performing from low economic areas — whose admittance to the University of Michigan is contingent on them completing this program.  
"I really enjoy it and believe it makes a difference in their lives," Collins said.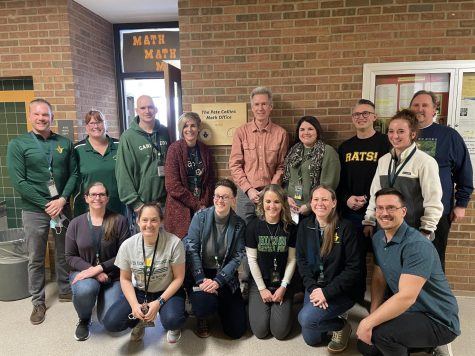 In commemoration of all the years Collins has dedicated to this school, the math department tried thinking of a present that would even come close to the significance of his career. In the end, they found the most fitting and deserved gift was to name the math office after him: "The Pete Collins Math Office" it reads on a light wood plaque, with the Huron logo on one side and a graph of a parabola and a cone on the other.
"We really wanted something that would make sure that he doesn't just disappear when he walks out the door." Clyde said. "To keep his name, at least around, always is nice. We just wanted something concrete, and he's not into accepting gifts, so I think it was just as special to him."
Collins' wife and one of his daughters came to Huron when the department surprised him with this dedication.
"My colleagues and I were just sitting around and talking and then all of a sudden I saw my wife and daughter," Collins said. "I thought somebody had died, but they were smiling and laughing, and the plaque was revealed. I just felt a love for the department."
Clyde attributes the tight knit culture and great sense of community within the math department to Collins, through department Christmas parties and summer barbecues he hosts, Password and Charade game nights of girls versus boys, and delegation skills, making everyone feel important.
"He's always here," Clyde said. "He's never gone. Ever. Maybe for the birth of a grandchild, but he's never just 'sick.' He has always been there if anyone needed anything, whether it's with math or a difficult conversation or something that happened in your own life. He's like Yoda. He's got it."
Undoubtedly, what Collins will miss most are the people.
"I just really love my department," he said. "Everybody is friendly, collegial and compassionate, good at what they do, smart, and fun to be around. And of course, I'm gonna miss the kids, too."
Collins hopes to be remembered as a combination of rigorousness and caring, and as someone who develops relationships with students and holds high expectations.
"I simply hope to be their friend and have them succeed," Collins said.
Looking back on the fall of 1982, mid-20s Collins casually driving up to Fuller Road, seeing Huron High School for the first time, and only expecting to stay here for but a few years, retiring Collins would tell his younger self "You're gonna work here for 42 years. And you're gonna love it."