Sophomore Saturday: Royce Smith
Q: Tell us a little about yourself.
A: "I play soccer and I run. My brother goes to Huron. He's a senior. He runs also and he's kind of annoying. I have a little sister who's really fun and she comes to running practice too sometimes."
Q: What is your favorite class and why?
A: "My favorite class is APUSH despite the workload because it's the most interesting class I have."
Q: What hobbies/sports/clubs do you do and why do you like them?
A: "I run track and cross country because of the team. I play soccer because it's really fun…way better than running. I'm also in Huron Against Trafficking. My friend created the club and it's a really interesting subject."
Q: Once the pandemic ends and social distancing restrictions are removed, what's the first thing you plan to do?
A: "Have a party with the cross country team. We're going to have a pool party!!!"
Q: What's an interesting/unique fact about yourself?
A: "I'm vegetarian. I started in seventh grade because I watched a video of cows lining up to be slaughtered and I thought it was so sad. On the day after I had become vegetarian, I forgot and my friend had to remind me to not eat meat."
Q: What is one lesson the past year has taught you?
A: "To persevere even when everything seems really bad. Because of COVID, we were really lonely and it was hard to find motivation. We just had to keep going because it has to be bad before it gets good."
About the Writer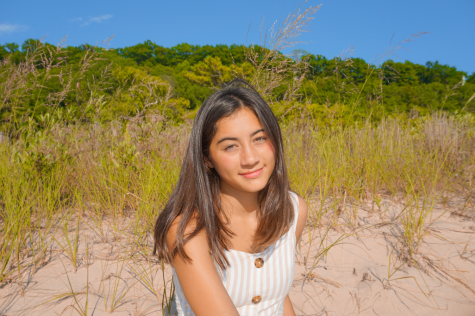 Verena Wu, Staff Writer
Verena is a senior at Huron. This is her first year writing for the Emery and she's excited to learn about the community by writing articles. She is...