Junior Jumpstart Monday: Jessie Schwalb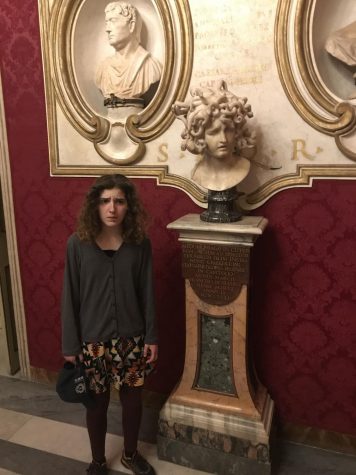 Q: What are your thoughts on how the school year is currently going?
A: "It is hard to avoid the fact that school has been closed, but otherwise, the year had been fine. I've alternated between overwhelming stress and worry about college applications, moments of joy brought by friends, annoyance at assignments I find useless and the exhilaration of having classes and clubs where debate is encouraged. I constantly feel I am falling behind, but have come to recognize that as the way of the world. There have been many disappointments, some of them brought on by coronavirus forcing pretty much everything to close down, but also due to my own failings. I hope I've learned from the many missteps I've taken, but it is hard to know what will stick. Mostly, I'm happy to have formed new friendships and explored subjects I genuinely enjoy."
Q: What has been your most shocking experience in high school so far?
A: "There are so many moments that I found quietly shocking, whose impacts only become apparent in retrospect. The first time someone openly discussed going to therapy, for instance, a topic which I had felt so uncomfortable touching on myself. Looking down the length of a table and finding that I was surrounded by those I both admired and considered friends. But the most negatively shocking moment was when the Mock Trial team I was a part of wasn't called up as having moved on to the state competition. As they were announcing semifinalists and finalists, I had been continuously repeating in my head that we weren't going to win as a method to brace myself, but when the finalist was called and Huron Mock Trial wasn't it, I literally jumped out of my chair and watched as the winning team rushed down the aisle to receive their trophy. I'm fairly certain I went through every stage of grief over the next few days. It sounds ridiculous, but we had put in so much effort that it seemed impossible that it hadn't amounted to us moving on."
Q: Favorite class/teacher and why?
A: "My favorite class is DP Art, but my favorite teacher would have to be Mr. Face. DP Art because it is wonderful to have time set aside where I don't have to (usually) focus on academics and can create things with my hands. I have known Mr. Face for two years now, and he is such a dedicated, argumentative, intelligent, awkward person. He also provides constant dialogue about the news, and he is someone I can argue for hours with. He has also been able to ground me in so many instances when I was about to crack, and I think we relate well to each other."
Q: What activities are you involved in?
A: "Mock Trial, a bunch of youth advisory councils and Huron Players."
Q: If you could redo one thing in your life what would it be?
A: "My sister was killed in a car accident on our way home from the house of one of my friends, so if I could redo one thing, I would refuse to go out with her that day."