Why the San Francisco 49ers success could lead them to the Super Bowl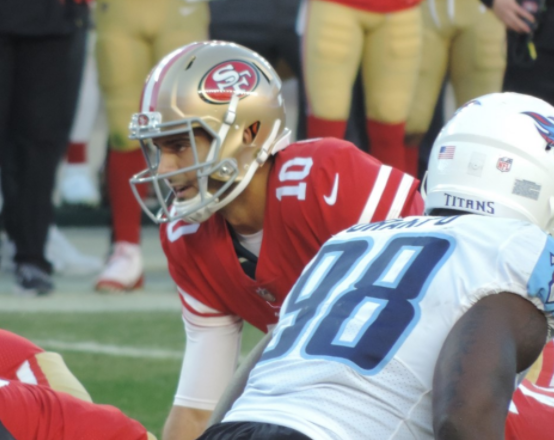 There is one undefeated team left in the National Football League, and it's not the New England Patriots. Instead, the San Francisco 49ers are quietly ascertaining themselves as a Super Bowl contender and should be taken seriously for three major reasons. 
Reason number one: their offensive and defensive lines are arguably the best in the league on their respective sides of the ball. Jimmy Garoppolo has only been sacked 12 times which is tied for 4th-lowest in the league. While they have no household names in the backfield, the 49ers are also ranked third in the league in rushing yards. The defensive line, not to be outdone by the offensive line, is stacked with talent all across the board. They have held opponents to an average of 102 yards a game while totaling 30 sacks on the season.
Reason number two: Their rushing offense. While there is no true number one back, there are three solid running backs all of whom specialize in different aspects. Matt Breida is the true bruising back who will help you as a goal-line threat, as well as leading the team in rushing yards. Tevin Coleman is a true dual-threat back and has played exceedingly well since his return from injury. Not only is he a threat while toting the rock, but he can be used as a checkdown back as well. Raheem Mostert adds another dual-threat back, but the most impressive statistic is that all three backs are over 300 yards rushing and have the big-play threat as well. 
Reason number three: Their recent acquisition of Emmanuel Sanders. The 49ers offensive game-plan had become a bit predictable prior to the acquisition of Sanders. Adding a true number one wide receiver to the offense gives Jimmy Garoppolo another passing attack weapon, and forces defenses to key on Sanders which will open up their running game. While Sanders might not perform statistically, he will open up the offense, and make this team all the more dangerous. 
The one knock on the 49ers is that they haven't played a truly good team at all this season. They dominated two solid teams, as they beat the Cleveland Browns, and Los Angeles Rams by a combined score of 41 points. They also took a red hot Carolina team and dismantled them winning by 38 points. They play the Seahawks twice, the Saints, Packers, and Ravens in their remaining 8 games, and should they continue their winning ways against those teams, they could be the favorites to win the Super Bowl.