Meena Suresh: A Surgeon in Progress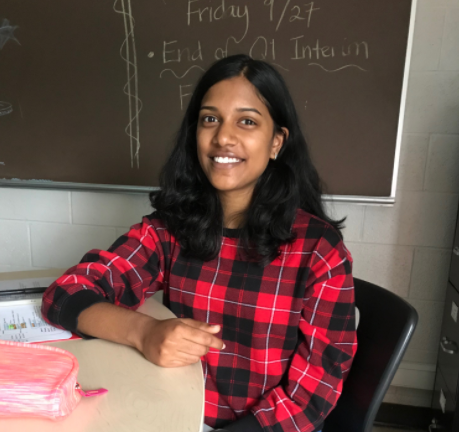 The TV is on, showing a famous tennis player, Roger Federer.  Immediately, she sits down to watch the tennis match. This occurs a numerous amount of times in freshman Meena Suresh's weekend routine.
"I started playing tennis a few years ago, I started playing, because I wanted to try doing a sport, I ended up really enjoying tennis," Suresh said."I love to watch it."
Suresh has played other sports such as soccer, basketball, and swimming, but she doesn't keep up with those anymore. She sees herself going to college, and studying very hard for the next four years. From transitioning from middle school to high school, Suresh has changed her studying habits. 
"I think I've started procrastinating less, I'm studying more, and I focus on my work," Suresh said.
Suresh is a good-hearted person, a hard worker, and intelligent. In her free time, she loves to take pictures.
"My dream college is Yale, and I aspire to be in the medical field. Specifically, a plastic surgeon," Suresh said.
 Suresh has always been interested in plastic surgery, it fascinates her. 
Suresh is currently in multiple clubs at Huron such as Science Olympiad, GIDAS(Genes in Disease and Symptoms), and HOSA(Health Occupations Students of America).
"My favorite club is Science Olympiad because there is a wide variety of different science-related events, you can do within this club," Suresh said. 
Out of all the people in this world, Suresh looks up to and admires one person, who is very close to her heart. 
"My mom is my inspiration because she works hard for not only me, but also my family, and she is just a great role model to look up to,''  Suresh said.