Close, aggressive soccer match against cross-town rival Pioneer ends in injury, red cards
When you play a cross-town rival, things are bound to get chippy. When Huron and Pioneer play, things get raised to the next level. Last Thursday, the Rats faced off against the Pioneers in a game at Riverbank Stadium. Following an early goal by Pioneer senior Austin Jacobs, Rats sophomore Djimo Kouyate replied to even up the score 1-1. 
"It was a banger of a goal," senior fan Alex Cole said.
That's when the chippiness began. Following halftime and a quick Pioneer score, senior Samer Yassir picked up the first yellow card of the game. 
"It was a really aggressive game, the referees were off, and everybody just wanted to win," Huron goalie Patrick Tibbets said.
Following Yassir's yellow card, Huron forward Riley Maciejevski carried the ball up the field with Pioneer defender Seth Neubaur trailing. 
"Another defender came in for support, and Riley somehow ended up getting flipped into the air," Tibbets said. "He landed on his neck, and from the second he landed the injury looked scary." 
Maciejevski was down for about 20 minutes, with his parents, athletic trainers, and other doctors who were in the crowd surrounding him. 
"An ambulance had to come and he had to get stretchered off with a neck brace," Yassir said.
His teammates and fans said they were concerned because it was hard to tell what was going on and how serious the injury was while he was down. It is reported that he was not moving during the time he was on the ground.
"The diagnosis of his injury went from paralysis to possible paralysis to a concussion. It was extremely scary," his sister McKenzie said. 
The injury shook the Rats, and they weren't able to complete their comeback, ultimately losing 2-1. They look to rebound today with another big game travelling to Saline to play the Hornets at 7 p.m.
About the Writer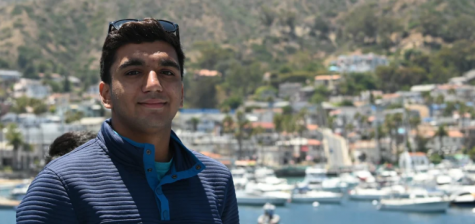 Manit Patel, Staff Writer
Manit Patel is a senior staff writer on the Huron Emery. This is his second year on staff. He enjoys writing about sports, watching sports, and playing...