State street construction continuing this summer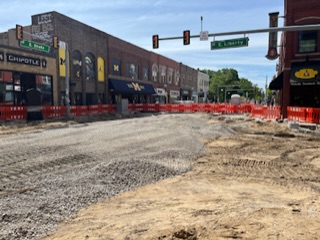 State Street, adorned with neon orange barriers and covered with dusty gravel, has been chaotic for nearly a year now. Though many citizens do not know why, the mass construction has some pretty plans for the future.
"The goal is to bring the street and the surrounding infrastructure up to standard and improve the aesthetic of the space," Frances Todoro-Hargeaves, the Executive Director of State Street District, Ann Arbor. said.
By the end of the project, they plan on having replacements and upgrades for electrical and water infrastructure, new light fixtures, aesthetics like flower beds and festival lights, and other updates.
Despite the huge advances toward a more positive downtown space for citizens, the project has harmful impacts on small businesses on State Street. 
"We have seen a decrease in sales and numbers outside of major events," Todoro-Hargeaves said. "The businesses are hopeful that the project will be completed on time this year and we will not miss any of the football season."
According to Donna Karreci, an employee at the Getup Vintage, a small business affected by the construction, the construction has peeved some staff. 
"It's an annoyance for everybody," Karreci said. "Just the way the roads are blocked off and all that."
Aside from small businesses, the immense amount of construction raises the question of how it's affecting the average citizen. And while any major construction project will cause disruption in the immediate community, Todoro-Hargeaves hopes it won't have too much of an impact on day to day life. 
"The best option for all of us to limit the disruption is for us to work together and communicate any obstacles that arise so that we can find positive solutions," she said. "The goal is to have a positive downtown space for everyone once the project is complete."
Brian Slizewski, the project manager for the State Street project says the new road is expected to be open by Labor Day. 
For more information on the State Street project, visit https://www.a2dda.org/people-friendly-streets/projects/state-street-project/