Crimes of Grindelwald is a Not so Fantastic Addition to the Harry Potter Saga
A 134 Minute trailer for the next sequel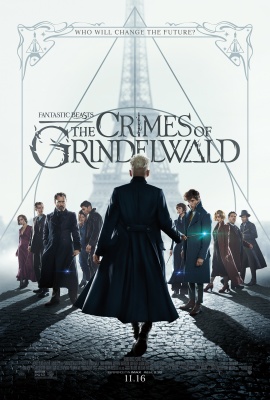 Hang on for a minute...we're trying to find some more stories you might like.
I am a huge Harry Potter fan. I'm a Hufflepuff; my Patronus is a Peacock; and I've read all the books multiple times over. I remember exactly where I was when I found out about the franchise, sitting at home when I saw that trailer which meant "There's going to be more Harry Potter!" which is what I yelled when I found out. Fast forward to a year later to Fantastic Beasts and Where to Find Them, an adequate Harry Potter movie which is firmly in the middle of the Harry Potter franchise for me. Now two years later I've seen The Crimes of Grindelwald, which leading up received mixed reviews from critics, but overwhelmingly positive things from the public. So which is it, a mixed bag of wands and Johnny Depp, or a magical adventure that enhances the franchise? Well, let's delve into that.
So let's talk about the good, and there are some things Grindelwald does extremely well. There were three characters in particular who really made the movie soar above what it would have been without them, the first being Grindelwald himself. Johnny Depp plays the character exactly as he was written in the books, as a charming and charismatic villain who uses his words instead of violence to inspire the wizarding world to go against non-wizards, and I can legitimately see just how he grew to acquire such a large army. The second of those would be Jacob Kowalski, the main "muggle" of the film, who is also the chief likable character of the film. Kowalski also serves as a comic relief and he has some pretty good laughs, mainly relating to jokes about salamanders. The final likeable character isn't even a person, it's the niffler. For those who don't know much about the series, the niffler is the adorable platypus like creature who really loves money. Throughout the climax of the film, I was most worried about the niffler. Those three characters really elevate the film to another level.
---
Metacritic.com:

    55/100   

Rotten Tomatoes:

    45%
IMDB Users:

    7.5/10     

My Score

: 6/10
---
Now, when I look back to the movie watched merely a half hour ago, I can't really remember much of what I enjoyed besides some good special effects and costume/production design, one or two nostalgic moments, and a twist that I still don't really know how I feel about yet. However, there wasn't that much bad either. The only things I remember that I didn't like were the characters who appeared to have large roles in the trailers, but were hardly in the movie. The largest culprit is definitely Dumbledore, who appears in the trailers as a major supporting role, but who in reality has maybe five minutes of screentime. Theseus Scamander, the brother of our protagonist Newt also rarely appears. However, the thing that most irritated me about the film was how it wasn't a movie, it was just a set up for another movie. Now, one could say the same thing about it's predecessor, but Crimes of Grindelwald is a movie which feels like the midseason finale of a TV show that we have to wait two years for the next episode. As Emily Benton, a fellow moviegoer said "I didn't like how it ended because now we have to wait two years to find out what happened, but the Baby Nifflers were so cute I don't even care!" It's incredibly irritating.
So those are my "semi-condensed" thoughts of the Crimes of Grindelwald, and as you can tell I was incredibly underwhelmed. While I wasn't expecting anything fantastic, I still was hoping for something which could move the franchise in a bold new direction, especially with a dark tonal shift. Justin Wagner, another moviegoer said "As only a moderate fan of the franchise, I did enjoy it and I'm excited to see where they go with the franchise." However, David Yates, who maybe just needs to hand the reins of the franchise to someone else at this point, having made the past six films in the franchise, made a movie that while I did enjoy, was just immensely average. That being said, I'm still going to see it again in theatres because I really want to see how amazing this movie is in IMAX.
Loading ...