Freshman Friday: Shreeya Tewari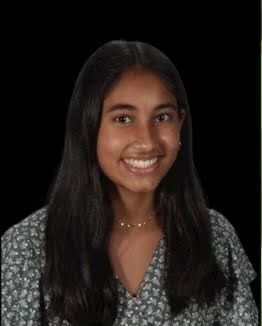 Q: Tell us a little bit about yourself and what hobbies/sports you do.
A:  My name is Shreeya. I play soccer for both travel and for Huron teams. I love to bake, dance and spend time with my friends and family.
Q: How would you describe your transition from middle to high school?
A: My transition was pretty smooth. I was able to quickly find more friends. I was able to adapt quickly. I do kind of miss the smaller grade size, but I also enjoy having so many new ideas and faces around.
Q: What class is the most interesting so far and why?
A: English class is probably one of the most interesting classes I'm taking currently, because we're learning a lot about the Holocaust and its survivors, and we're reading this really interesting book, Maus II. I think it's very eye opening.
Q: What are 3 words to describe your first months of high school and why?
A: Exciting, because there was a lot of new energy and people around. Nerve racking because I did not know how to get to my classes and it was a whole new system. But also, interesting because I got to learn new things and how people live life in high school.
Q: How has high school surprised you so far? Were there any skills you had to learn to get work done or fit school into your schedule?
A: High school has surprised me by the amount of friends that I have made so far. I did have to quit some things that I did outside of school so I could do homework and other sports.
Q: How do you want to remember your high school experience four years later? What are you doing now or how do you plan to make that happen? 
A: I want to remember high school as a learning experience for life and a time where I had fun with my friends. I've been learning life lessons, and I also hang out with my friends at school events. I plan on continuing to stay close with all my friends, and continuing to look at the positives and enjoy life.