Trick or treat on the river – an Ann Arbor Halloween tradition
Last Sunday, Gallup Pond was packed with families lining up to participate in the annual Trick or Treat on the River. Parents and children rented canoes and traveled all across the water, stopping at about 20 different stations. Each station was set on a dock, with volunteers dressed in costume and handed out candy. Emma Schneidewind, a freshman at Huron High School, volunteered to hand out candy dressed as a swamp monster. The only difference between normal volunteers and her, is that she was stationed in the water.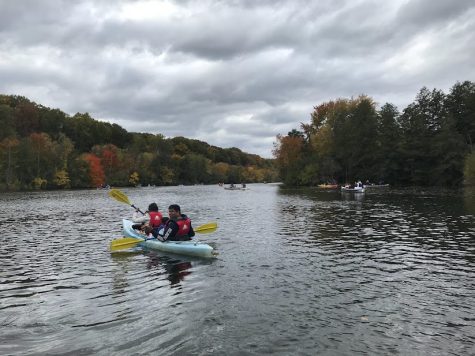 "It was really fun," Schneidewind said. "I liked handing out candy. It was pretty cold by the end, but seeing the little kid's excited faces made it all worth it."
Schneidewind has been attending the event every year since she was a toddler, but back then, she was the one in the canoe. Now being older, Schneidewind's volunteering evokes a lot of nostalgia. 
"It's weird, really," she said. "I used to love seeing all the costumes, but especially the swamp monsters. Now that I am one, I think it's cool that I get to make kids like me happy."