Teachers wear neon orange in support of gun control
With an abundance of energy and solidarity, over 40 Huron teachers wore neon orange shirts on June 3 in support of gun control. With slogans reading, "Protect our children," and, "We can end gun violence," many staff members hope to advocate for the safety of students everywhere. 
Behind this demonstration was Huron math teacher Abbey Wolford. After the news of the Robb Elementary School shooting, Wolford was heartbroken. 
"The fact that this is something that my 4 year old has to do drills for to ensure her safety in the case of a shooting is just astonishing," Wolford said. "How has this become acceptable?"
She decided she needed to take action, and emailed a friend who directed her to ways to get started. Seeing that others through online platforms had planned to wear orange on June 3 to show support, Wolford needed to get Huron involved.
"It feels like not a lot, but it's something," Wolford said. "It's a start."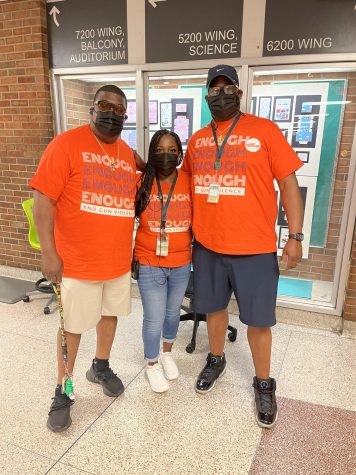 She quickly found the support of many teachers and staff, one of them being English teacher Sarah Anton. Anton immediately reached out to Moms Demand Action, a gun reform group she's a part of. 
"She [Wolford] sent out an email and it kind of snowballed from there," Anton said. "I had a contact at the Moms Demand Action group and they donated a large amount of t-shirts to us."
  They were able to get almost 50 staff members orange t-shirts, and other staff wore their own orange to support.
"I feel like we're sitting ducks just waiting for our turn," Wolford said. "I don't feel safe enough, I don't feel that my students are safe enough." 
More than just their physical safety, Wolford worries for students' mental health in the constant wake of shootings.
"If you can, really talk to your parents," Wolford said. "Sometimes students and parents both lose sight of each other, but vocalizing to them can be an avenue to take positive action. You don't have to just sit with it."
Following these reports, students who need support can contact:
Crisis lines:
Text HOME to 741741
Call 800-273-8255