Bobcat Bonnies: busy atmosphere with a steep price
At the intersection of Washington Street and Michigan Avenue in downtown Ypsilanti is where you can find an unassuming restaurant and bar. Despite its rather simple façade of just brick and black stone, Bobcat Bonnie's is a place that you don't want to miss.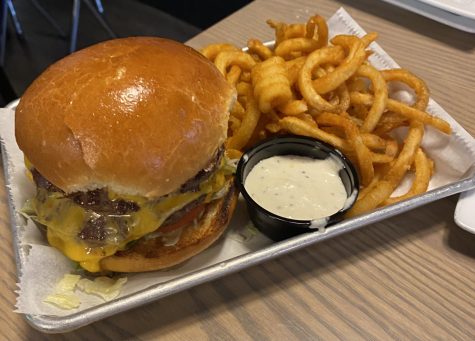 I went on a brisk, windy December day, and inside there was quite a scene. There was lots of commotion and it was very busy, as it was weekend brunch, which they offer every Saturday and Sunday from 10:00 AM to 3:30 PM. So, if you enjoy a lively, busy atmosphere, this is the place for you. I was promptly seated after a brief wait and the server was polite and efficient. At Bobcat Bonnies, there is a special menu for brunch specifically, which includes traditional breakfast and lunch cuisine. On this occasion, I ordered off the brunch menu and ordered 3 different items: the traditional burger with curly fries, the Chilaquiles and the chicken and waffles with syrup and hot sauce.
The chicken and waffles were the star of the show; the waffles were sweet and fluffy, but not overpowering. I am not a big syrup fan, but the syrup complimented the waffles excellently. The chicken was crispy and flavorful, and the hot sauce provided was an amazing pairing. The burger and curly fries were also delicious in their own right. The burger, which had only traditional toppings, was tasty, although it did get lukewarm after a few minutes. Nonetheless, great flavors and a juicy patty added up to a delicious meal. The curly fries were amazing: perfectly seasoned and beautifully crispy. They went very well with the hot sauce from the chicken and waffles, too. Now, the low point of my experience here was the chilaquiles. They were not bad by virtue of being chilaquiles, nothing wrong with them. They sounded good on the menu, but when they arrived, their quality was fleeting. The chips were good at the start, but after a few minutes, the chips had begun to absorb the salsa at the bottom, making them very soggy and unappetizing. Despite this small hiccup, overall the food was very good. For these three items, all of which were of manageable portion sizes, I paid $41 with tax included. The restaurant is on the more expensive end, but the quality of the food was worth it.
So the food was rather good, the atmosphere busy and the price quite steep. Not everybody's cup of tea, but I enjoyed it, and I would recommend this to anybody who thrives in social dining settings. I give this place 4.1/5 stars.