2020 NBA Slam Dunk Contest Review
On the morning of Feb. 16, the Orlando Police sent out a tweet to the Chicago police about investigating a robbery. It wasn't done well since everyone's seen it on national television; Orlando Magic forward Aaron Gordon had the All-Star dunk contest title in Chicago taken from him.
This isn't the first time he's been wronged. In the 2016 dunk contest, Gordon saw Zach Lavine win the title, even though he arguably completed some of the most dazzling dunks in the entirety of the contest's history. The photo of him literally sitting on air after leaping over the Magic's cartoon dragon mascot went viral, but he still didn't end up with the trophy. Considering what's happened recently, it makes it more clear that he never will, and for all the exhilarating moments he's been tied to in the contest it's obvious he should've won this one. Therefore, after the battle in a post-match interview Gordon publicly stated that he wouldn't be participating in the contest again.
"It's a wrap," Gordon said. "I feel like I should have two trophies, so it's over for that."
Something that didn't end nearly as quickly was the media's highlight reels of Gordon's performance. Even after having done the dunk contest two times before, his creativity didn't wane. Throughout the event, he meshed high-flying acrobatics with raw power in every dunk. This combination led to a series of theatrics, as he pulled off a one-armed 360-degree dunk on the baseline, jumped over Chance the Rapper while doing a through the legs dunk and finally ended it by clearing the current tallest NBA player, fan-favorite Tacko Fall. 
Yet even after Gordon was able to dunk over Fall's 7'5 frame (he merely grazed him with his thigh), the judges weren't impressed. They humorously decided to make him come up one point short, giving him a 47 on his last dunk when Derrick Jones Jr., his main competitor, previously received a 48. Dwayne Wade was one judge who contributed to Gordon's shortcoming, and consequently his reaction to the loss has been memed all over the internet. He probably tried to coordinate a score with his fellow judges that would be the same as Jones Jr. with a 48, though it obviously didn't materialize.
It's not to say that Lavine or Jones Jr. didn't deliver a breathtaking display of dunks. Simply put, when someone talks about these dunk contests, Gordon's name is the first to come up. He surpasses the dunks of his competitors while mixing in the memorable ones which will circulate and inspire others for generations to come. 
Gordon has been utterly robbed twice. Dishearteningly for the city of Orlando and its police force, Chicago can't do anything to placate Gordon for this mistaken decision.
"I don't know who gave me the 9's, but I'm going to find them," Gordon said. Regardless of the joke it's clear that Gordon, and fans all across the U.S, have finally had enough.
About the Writer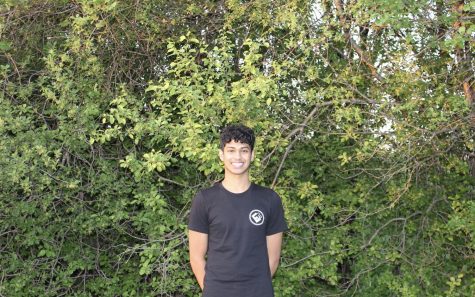 Vish Gondesi, Online Editor-in-Chief
Vish Gondesi is a junior at Huron High School and the website editor-in-chief for the Huron Emery. After moving from Illinois to Michigan in his freshman...