Senior Sunday: Aakarsh Verma
Q: Tell us a little bit about yourself.
A: "My name is Aakarsh Verma, and this is my last year at Huron. As a percussionist, I'm active in the music community at Huron. I'm the president of the Symphony Band, a drummer in the Jazz Band and a member of the Drumline."
Q: What has been your favorite part about this school year?
A: "This year, my favorite part about school has been watching how my teachers and peers work together to dream up creative solutions to all of the challenges that online school has thrown at us." 
Q: What do you miss about Huron?
A: "The concerts. There's nothing like finishing out a 40-minute performance with the band or cheering on your talented friends from the audience at Multi Culti. Also, I miss seeing my friends (like Vis!) in the halls between classes."
Q: What is one goal you have for this year?
A: "One goal I have for this year is to make the band community a more welcoming, collaborative, driven and—by extension—successful environment." 
Q: What is your favorite class, and why?
A: "My favorite class is DP Global Politics because of my teacher. Mr. Face always puts in the time and effort to foster conversations relevant to current events and class concepts. His sense of humor is A-tier too." 
Q: What hobbies/sports do you do?
A: "I don't play any sports, but I spend my free time making origami and watching Netflix. I'm currently watching The Vampire Diaries, but season 4 is really stale, so I might try something new soon."
About the Writer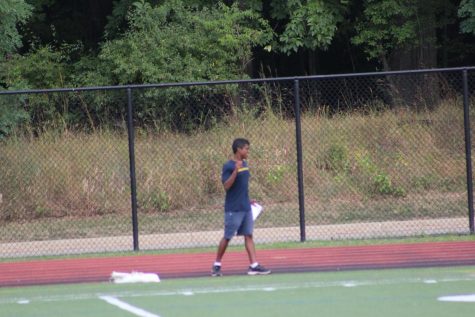 Visruth Rajendiran, Staff Writer
Visruth is a junior at Huron High. This is his first year on the Huron Emery. He was the team manager for the Huron Boys soccer team last year, and now...